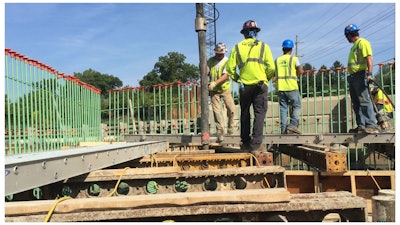 Work is scheduled to begin Friday on the $224 million reconstruction of a congested section of Interstate 75 in the Detroit metro area.
Weather had delayed the original start date of February 27 for the second segment of the freeway revamp between north of 13 Mile to north of Coolidge Highway, according to the Michigan Department of Transportation.
Along with widening 8 miles of the three-lane highway with an HOV lane in each direction, this segment involves improving  bridges, upgrading ramps, interchanges and drainage, and building noise walls. The project is scheduled to be completed in Fall 2020.
The current segment is part of a larger modernization of I-75 that will eventually rebuild and widen 18 miles of the highway with HOV lanes in each direction, including replacing bridges, according to MDOT. The third and final segment is scheduled to begin in fall, be completed in 2023 and cost $629 million. It will include a 4-mile drainage tunnel that will be 14 feet in diameter to prevent the freeway from flooding.
The entire project is estimated to cost $944 million.
The first segment was completed in 2017. That project covered north of Coolidge Highway to north of South Boulevard.
The project has been in the works for 20 years for the freeway, which was built in the 1960s. Like much of the nation's infrastructure constructed during that time, it was not built to handle 21stcentury traffic volumes, which range from 103,000 to 174,000 vehicles a day on the I-75 freeway.
(Note: This story has been updated to change the start date of the project, which was delayed due to weather.)