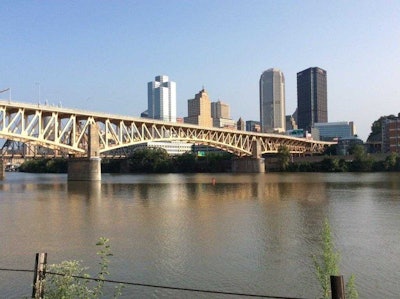 Pennsylvania Department of Transportation (PennDOT) spokesman Steve Cowan says that most of the work on the rehabilitation of Liberty Bridge in Pittsburgh is complete, but crews will continue to make minor improvements through late January 2019, TribLive reports.
The minor improvements include sealing sidewalks and replacing a damaged pedestrian railing that was hit by a vehicle in September.
The $81.8 million rehabilitation project was originally estimated to cost $80.1 million when it began in August 2015, and was scheduled to be completed in July 2018, but unforeseen steel repairs, additional sidewalk work, and the installation of a bird screen pushed the completion date back to August 26. In addition, the bridge caught fire in September 2016 and was closed for weeks.
PennDOT also added work to the project's scope, including installing large concrete blocks known as a pedestal extensions to the bridge support system on Boulevard of the Allies and asked contractors to pressure-wash the decorative sandstone above the retaining wall.