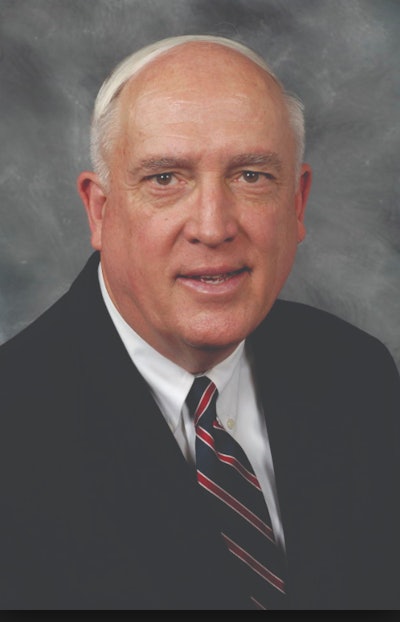 Peter Ruane, the three-decade president and chief executive officer of the American Road & Transportation Builders Association (ARTBA), is the 2018 recipient of the group's highest honor: the "ARTBA Award."
It was presented Monday during a special session at the ARTBA National Convention in New York City.
Ruane, who retires November 1, is the longest-tenured head of the 116-year old organization. Once called the "dean of transportation lobbyists" by Congressional Quarterly, he has been a leading force in federal transportation investment policy and politics in the Nation's Capital.
"He has been a fixture witness at congressional hearings and provided counsel to administrations from both political parties," says a press release from ARTBA.
Established in 1960, the ARTBA Award recognizes individuals for outstanding contributions that have advanced the broad goals of the association.
Over the years, recipients have included several governors, more than 25 U.S. senators or representatives, two U.S. secretaries of transportation and dozens of top leaders and executives from government and the private sector of the transportation construction industry, a press release says.
When Ruane joined ARTBA in 1988, the total annual federal investment in the U.S. highway and transit programs was $16 billion. Today, it is $60 billion, the organization says.
Established in 1902, Washington, D.C.-based ARTBA is the "consensus voice" of the U.S. transportation design and construction industry before Congress, the White House, federal agencies, news media and the general public.
Under Ruane's stewardship, ARTBA developed and launched nationally-acclaimed economic research, safety and education programs, including the:
Transportation Investment Advocacy Center;
National Work Zone Safety Information Clearinghouse
Safety Certification for Transportation Project Professionals program
Ruane was pivotal in the creation of the Transportation Construction Coalition (TCC), now in its 22nd year, the press release says.
TCC includes 31 national associations and labor unions, the 105-member Alliance for Truth in Transportation Budgeting, which successfully pushed reforms to end the long-time impoundment of Highway Trust Fund revenue, and the U.S. Chamber of Commerce-led Americans for Transportation Mobility (ATM), for which he served vice chair.
Another key Ruane leadership initiative included the 1990 creation of the association's eighth permanent membership division—Public-Private Partnerships in Transportation—to help develop and move federal legislation that would foster private investment in transportation projects to supplement public funding.
ARTBA played a key role in opening this door in the 1995 highway bill which allowed, for the first time, states to be reimbursed with federal funds for bond principal, interest costs and insurance on Title 23 projects. The association also hosted its 30th Annual National Conference on P3s in Transportation this past July in the nation's Capital.
Ruane is a past chairman of the Small Business Legislative Council, a permanent coalition of over 50 trade associations representing small business interests in Washington, D.C. He is also an officer of the International Road Federation.