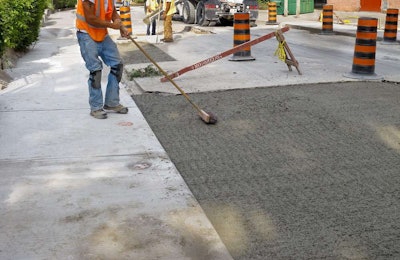 Researchers at the University of Bath and Goa Engineering College in India have successfully demonstrated that replacing just 10 percent of the sand in concrete with plastic waste can help reduce the plastic waste on India's streets and help deal with a national shortage of sand, The Construction Index reports.
The research demonstrating how the team investigated different types of plastic to see if they could be crushed and used as a sand replacement was published in the journal Construction & Building Materials.
The researchers tested five types of plastic particles, including recycled plastic bottles and recycled plastic bags. They discovered that replacing sand with plastic bottles ground up into similarly sized and shaped particles resulted in concrete that was almost as strong as conventional concrete mixtures, and it could save 820 million tons of sand per year and reduce plastic waste levels.
"Typically, when you put an inert, man-made material like plastic into concrete, you lose a bit of strength, because the plastic material doesn't bond to the cement paste in the material in the same way that a sand particle would," said John Orr, principal investigator and Cambridge University lecturer who completed the research, according to the news agency. "The key challenge here was to have a limit between a small reduction in strengths, which we achieved, and using an appropriate amount of plastic to make it worthwhile. It is really a viable material for use in some areas of construction that might help us to tackle issues of not being able to recycle the plastic and meeting a demand for sand."
"Characteristics of the waste being added to the concrete, such as the type of plastic and the size and shape of the particles, can all have an influence on the final concrete properties," said Richard Ball, co-researcher in the University of Bath's Department of Architecture & Civil Engineering, according to the news agency. "Even when the reduction in performance prohibits structural applications, lower tech uses such as paving slabs may be viable."
The research was funded by the British Council under the UK India Education & Research Initiative program. In addition to Orr and Ball, the research team included James Thorneycroft (University of Bath), and Professor Purnanand Savoikar (Goa Engineering College).