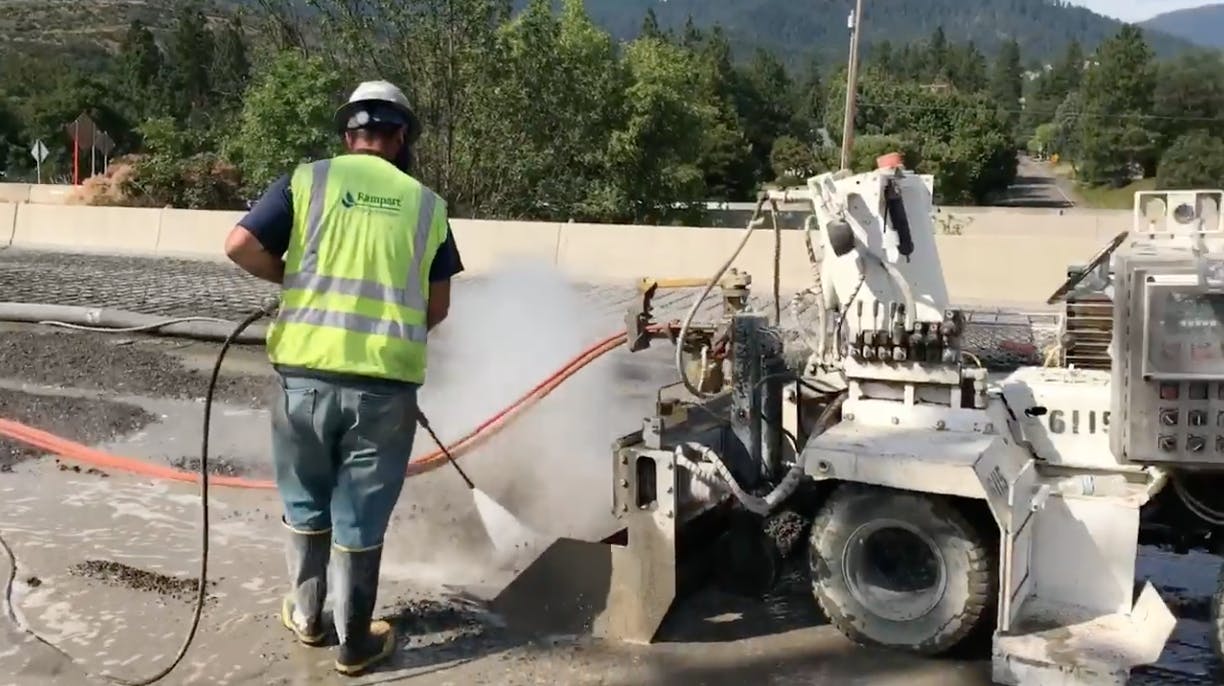 Oregon Department of Transportation (ODOT) crews are removing concrete from bridge decks on Interstate 5 south of Ashland using large power washers that are strong enough to remove concrete down to the rebar, KTVL News 10 reports. The technique is knows as hydroblasting, or hydromilling, and is said to be cheaper and more efficient than using jackhammers or other concrete removal methods.
"As I'm cutting along, I'm taking on all that bad concrete so I might only be cutting 3 1/2 inches, but when the concrete is bad, it's going to blow them right out," says Justin Elm, a field technician for subcontractor Rampart, according to the news agency. "It pretty much eliminates all the chipping and, like I said, the stress fractures when you're chipping concrete, it breaks through the whole deck."
Elm told the news agency that the entire northbound side of I-5 would be stripped within eight days using the hydroblasting technique, and that the 'slurry' created by the hydroblasting would be treated and disposed of properly.
"Because we anticipate the rest area will open next year … we want these bridges repaired and ready to go by the time the rest area opens next spring," said Gary Leaming, an ODOT spokesperson, according to the news agency. "When using the hydromill, the rebar is exposed, and then any kind of repairs such as under the deck where they say there has been several blow-throughs on this one, they're repaired. The rubble-ized concrete and the rebar will be repaired, then we'll come back and put a nice coat of concrete wearing surface on this deck to last at least several generations."
The entire $2.5 million project is expected to last until approximately October 1st, 2018.
Watch a clip of crews hydroblasting the I-5 bridges below. If it doesn't load in this page, you can find it on Facebook by clicking here.
Construction video: Oregon Department of Transportation has brought in Rampart to replace the old concrete bridge decks on Interstate 5 south of Ashland. They don't use jackhammers so they use a machine to HYDROBLAST the concrete. https://ktvl.com/news/local/odot-replacing-original-interstate-5-concrete-using-unique-hydroblasting-technique

Posted by Mike Marut KTVL on Friday, July 13, 2018