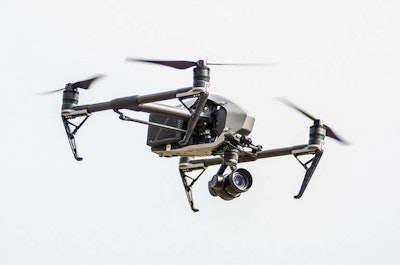 The state of Ohio plans to use drones as part of a three-year study to monitor traffic and road conditions along its test route for autonomous and connected vehicles.
Known as the 33 Smart Mobility Corridor, the route extends 35 miles on U.S. 33 between Dublin and East Liberty. The highway section has been equipped with 39 miles of high-speed-data, fiber-optic line in the road's right of way, and the installation of an additional 42 miles of fiber-optic cable is scheduled to be completed in October. Dozens of automotive companies and research organizations have set up shop along the corridor.
"This project will help us explore the intersection between autonomous and connected vehicles on land and in the air," said Jim Barna, executive director of DriveOhio, the Ohio Department of Transportation's research center for mobility technology. "The goal is to understand how we can better manage traffic, roadway incidents and roadway conditions using advanced technology and data analysis."
Drones will work in tandem with the state's fixed-location traffic cameras, and they will interact with roadside traffic sensors and communication equipment along the corridor and send data to the state's Traffic Management Center via the fiber-optic lines. These same sensors and communication devices will prevent crashes with other drones or small planes and helicopters that use the same low-altitude air space, DriveOhio says. The $5.9 million study is also designed to help prepare for future commercial drone uses.
"One of the keys to better utilizing unmanned aircraft is to ensure they will not pose a threat to other aircraft traveling in the area," said Fred Judson, director of DriveOhio's Unmanned Aircraft Systems Center. "This research project will make the development of that safety system a priority so that other aircraft operations such as package delivery and air taxi services can be explored down the road."
DriveOhio's Unmanned Aircraft Systems Center is partnering on the project, which begins July 1, with Ohio State University's College of Engineering.
The UAS Center at the Springfield-Beckley Municipal Airport has received FAA permission to fly drones in the national airspace, and drones can be flown beyond the visual line of sight due to a ground-based, sense-and-avoid radar system at the airport.