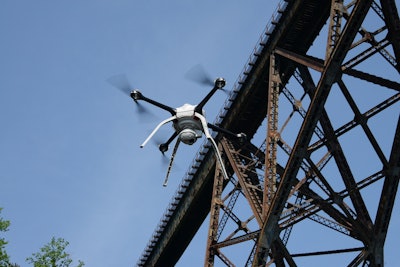 Five state departments of transportation have been chosen to be part of a new drone test program by the USDOT to fly drones in areas they are currently not allowed. The goal is to help the federal agency integrate drones into the nation's air space system, the agency says.
Drones have proven to be useful tools for DOTs, which use them for such things as bridge inspections and disaster response. But as drones increasingly fill the air space – 1.1 million drones are in operation today, according to U.S. Transportation Secretary Elaine Chao – the USDOT has been given the task of "developing new 'governance structures' that give state, local and tribal governments a role in regulating and enforcing drone operations."
These three DOTs were chosen to be direct participants in the program: North Carolina, Kansas and North Dakota departments of transportation.
The Tennessee Department of Transportation and the Alaska Department of Transportation and Public Facilities are partners with other agencies that also were selected for the program.
The 10 participants chosen for the three-year national program will collect data from drones flying at night, over people and out of the pilot's sight. The data will be used by USDOT and the FAA to develop new rules for "more complex, low-altitude operations." Such operations include package delivery, detect-and-avoid technology, and the reliability and security of data links between drone and pilot, USDOT says. The program also seeks to balance local and national drone interests, improve communications with local, state and tribal jurisdictions, and accelerate approval of operations that currently require special authorizations, according to the agency.
Here's a look at how the selected DOTs plan to participate in the experimental program:
The North Carolina DOT will work with drone delivery companies, such as Zipline, Matternet and Flytrex, for drones to deliver medical supplies and test results to medical providers. The agency is also working with drone software companies, such as AirMap and PrecisionHawk, to develop unmanned traffic management systems to track drone flights.
The Kansas DOT will work with industry and local agencies to use drones for such operations as assessing roads damaged by weather, inspecting bridges and finding and assisting stranded motorists.
The North Dakota DOT plans to consider drones for speeding response to emergencies, such as blizzards and finding missing people, and other purposes.
The Tennessee DOT will partner with the Memphis-Shelby County Airport Authority for its participation in the national program.
The Alaska Department of Transportation and Public Facilities will partner with the University of Alaska-Fairbanks.
"Our country is on the verge of the most significant development in aviation since the jet airplane age," Chao said in announcing those chosen for the drone program. "…To reap the safety and economic benefits drones have to offer, we need to create a safe pathway for them."
To see how DOTs around country have been using drones, check out these videos by the American Association of State Highway and Transportation Officials: