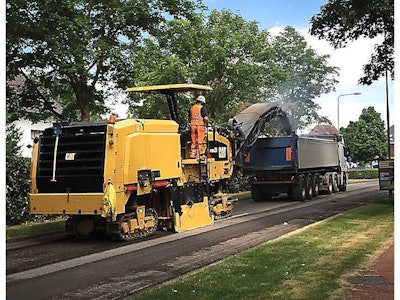 Caterpillar has reached an agreement with Kennametal that will allow the heavy equipment manufacturer to supply customers with special order rotors and diamond and carbide cutting tools for mixing and road milling applications.
Cat says the Kennametal tools will be available at Cat dealerships around the world immediately and will be backed by support.
"This partnership provides our customers, via our Cat dealer network, access to world class machines, a full line of rotors, outstanding earth cutting tool technology and industry expertise," says Cat's Paul Clark, worldwide product manager for paving. "It is another step towards ensuring a superior experience for our customers."
"This partnership capitalizes on the long-standing reputations Kennametal and Caterpillar share in the road rehabilitation industry, and it supports our joint commitment to providing end-users with the ultimate customer experience," added Kennametal Vice President Pete Dragich. "By combining our proven products and expertise with Caterpillar's world-class machines and extensive dealer network, we will deliver unmatched earth cutting solutions to road rehabilitation customers around the world."
Customer interested in learning more about the full offering of Kennametal tools at Cat dealerships should contact their local Cat dealer or Kennametal representative.