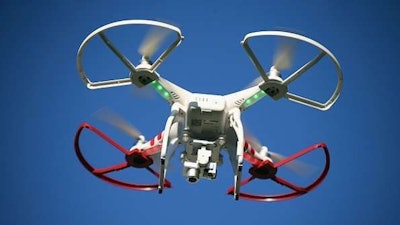 A study by the North Carolina Department of Transportation's Division of Aviation recommends drones for speeding up accident investigations.
The study says that large accident scenes can be documented in less than 30 minutes with drones versus almost 2 hours with current investigative methods. Such quicker documentation can also lead to faster reopening of roads following crashes, the study says. The drone method also saves money and is safer for drivers and investigators.
The study results followed a simulated crash May 22 at a training facility. State and local law enforcement agencies participated in the simulation of a head-on collision at 40 mph.
Two representatives from the Division of Aviation mapped the scene using three different drones and photogrammetry software.
The study concluded: "this technology has huge potential for quick and accurate documentation of vehicle collision scenes, which is especially important when there is a large loss of property or life. Furthermore, its video capability offers the opportunity to revisit a collision scene multiple times from an aerial perspective."
The drone and software also provided immediate documentation of data, were easier to use and provided aerial views of the scene, the study says.
Since the simulation was conducted during the day, the study also recommended conducting further drone research at night and during inclement weather to gauge how well the drones operate in those conditions.
Ultimately, though, the study recommended that the state Highway Patrol use drones for collision scene reconstruction.