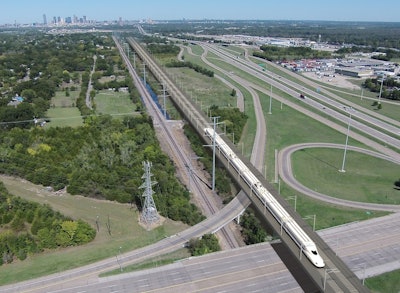 Texas Central, an investor-owned railroad company, has selected Fluor and The Lane Construction Corporation for the construction planning, cost estimates and other engineering activities of a bullet train linking Houston to the Dallas-Fort Worth metro area. When complete, the train will make the 240-mile trip in 90 minutes with a midway stop in the Brazos Valley.
Under the agreement announced Monday, Fluor and Lane would be the preferred design-builder of the project, although neither company will have an equity or ownership stake and the project and will not be involved in land acquisition. Texas Central also emphasized that the project will be privately funded. Unlike the California's sputtering bullet train initiative, no tax dollars will be used in any phase of the Texas bullet train project.
"This will be America's first true high-speed train," said Robert Alger, president and CEO of Lane. "The project will create benefits for generations to come while providing an innovative transportation alternative for Texas commuters."
According to Texas Central, developers looked at 96 pairs of cities and determined that the Houston-Dallas combination was the most feasible route for a successful bullet train. It will also be one of the largest civil works projects in United States history and will create substantial jobs and investment including:
10,000 construction jobs during each year of construction
$10-billion in direct investment
$36 billion in economic benefits over 25 years
$2.5 billion in tax revenue.
Additionally, some 25 percent of the permanent jobs will go to people in rural communities along the route.
The total project cost is estimated to be $15 billion backed by private equity. The design will be a grade-separated, dedicated corridor eliminating any intersection crossing arms or interaction with automobiles, animals, or pedestrians.
More than 14 million people travel between Houston and Dallas-Fort Worth every year, according to Texas Central, a trip that takes 4 ½ hours by car on Interstate 45, which is the second deadliest highway in the country. And when surveyed, some 80 percent of Texans said they would use the bullet train.
Lane has been working in Texas since the early 1980s and has built numerous transportation projects there including interstate and airport infrastructure. The company's signature Brazos River Bridges on Interstate 35 in Waco won the 2014 Engineering Excellence Award. Lane's Italian parent company Salini Impregilo, has built high-speed rail projects all over the world.
Fluor is one of the world's largest publically traded engineering, construction and project management companies. Headquartered in Irving, Texas, it ranks number 149 on the Fortune 500 list with $19 billion in revenue.