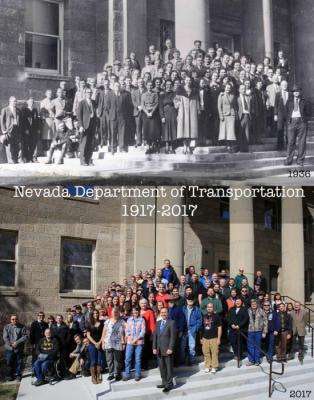 The Nevada Department of Transportation (NDOT) celebrated its 100th birthday Thursday. Formed as the Nevada Department of Highways in 1917, the department's original mission was to turn the rutted dirt paths forged by pioneers into roads, according to a report from CarsonNow.org.
Highway construction, at the time, was difficult, and road grading was done using teams of horses. In January 1919, NDOT built its first trestle bridge at a cost of $10,953 and began a $72,000 road project to build a concrete road southward from Reno.
By the mid-1920s, Nevada's 45-mile-per-hour speed limit was removed and drivers were asked to limit their speeds to that of "sane and safe driving." The 20s also saw the first state gasoline tax for transportation funding, which provide funding for such projects as oiling U.S. Highway 91 near Apex and construction of Interstate 15.
When World War II began, many highway employees left to join the military. NDOT's 1940-1942 Biennial Report is dedicated "to those very fine young men who have left this department to go into the service of our country, and with the sincere hope that they will all return to resume their duties with the department as soon as the world is safe for decent-living people." Following the war, President Eisenhower's Federal Highway Act saw the construction of 41,000 miles of interstate highway across the nation, and Interstate 80 went right through Nevada.
At the end of the 70s, the Nevada Department of Highways changed its name to the Nevada Department of Transportation. It led the transportation industry by installing a Road Weather Information System (RWIS), a system of sensors that transmit road condition information and temperatures, along Mt. Rose Highway south of Reno.
In 2005, NDOT built the Freeway and Arterial System of Transportation to manage and monitor traffic in Las Vegas, Henderson and North Las Vegas using 600 cameras and a network of pavement, Bluetooth and microwave sensors. A year later, when traffic fatalities reached an all-time high, it launched the Strategic Highway Safety Plan that identifies targeted strategies to save lives on Nevada roads through its Zero Fatalities program.
The four-lane Hoover Dam bypass bridge opened October 19, 2010, eliminating the narrow switchbacks and low travel speeds required when crossing the dam on U.S. 93. Six years later, in 2016, Nevada began Project Neon, a $1 billion project to widen 3.7 miles of Interstate 15 between Sahara Ave. and the "Spaghetti Bowl" interchange in downtown Las Vegas.
In celebration of its 100th birthday, NDOT is asking Nevadans to share their state transportation memories or reflections, which will be included on the NDOT website. NDOT can be reached at (775) 888-7000.
"We've been helping keep Nevada safe and connected for 100 years," NDOT Communications Director Sean Sever told CarsonNow.org. "Nevada has a rich transportation history, from the dirt paths of a century ago to today's interstates carrying as many as 300,000 vehicles every day. What we do is about connecting Nevadans, and we want to hear from fellow residents their memories of Nevada's transportation history, particularly from the first half of the twentieth century."