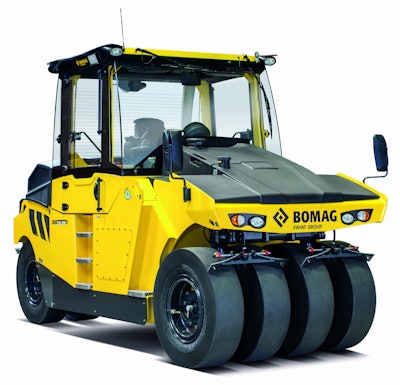 At ConExpo 2017, Bomag introduced its BW 28 RH pneumatic tired roller that offers an enlarged ballast compartment for a high range of operating weight, as well as a higher maximum wheel load compared to previous models to allow for deeper static compaction.
The operating weight of the BW 28 RH now extends from 18,960 to 61,730 pounds and the max wheel load is 7,715 pounds. The company says this offers an increased application range from city streets and county roads to interstates and airports.
The ballast, Bomag reports, can be added with concrete, steel and/or underfloor weights plus water, dry sand or wet sand. Contractors can install four 1,653-pound concrete weights, four 3,307-pound steel weights or two 1,543-lb (700-kg) underfloor weights. Plus, the 106-cubic-foot ballast compartment can hold up to 6,614 pounds of water, 9,920 pounds of dry sand or 13,228 pounds of wet sand.
The machine's eight offsetting tires overlap by 1.3 inches and spread across 80.4 inches. The front axle has three-way pivoting to evenly distribute weight across all the tires which, with an optional tire inflation system, can vary in tire pressure from 29 to 116 psi.
The BW 28 RH also features a 134-hp Deutz Tier 4 Final diesel engine. With its ECOMODE load-dependent operation, the roller provides fuel savings up to 30 percent compared to previous models, Bomag says.
It features a one-piece, tilt-up hood for improved access to service points, and a design that improves visibility to the outside tires and the tops of the tires, the company adds.