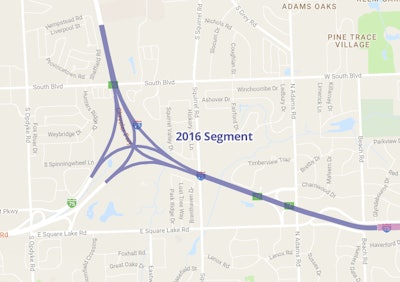 The Michigan Department of Transportation (MDOT) begins today the first leg of a 14-year, $1 billion project to improve a section of Interstate 75 in Oakland County north of Detroit.

The entire project will cover roughly 18 miles of the interstate traveling through Auburn Hills, Bloomfield Township, Tory, Madison Heights, Royal Oak and Hazel Park. This section of I-75 was built in the 1960s and has not had a major improvement in that time, MDOT says.
The I-75 Modernization Project will add a High Occupancy Vehicle lane, the first in Michigan, as well as interchange updates, drainage system improvements, bridge replacements and pavement reconstruction.
The first section involves rebuilding the interstate between Coolidge Highway and South Boulevard between Troy and Pontiac. The plan includes paving reconstruction, bridge placements and modernization of the Square Lake Road Interchange. This leg of the project will take two years at a cost of $90.8 million.
MDOT says beginning today, and continuing through early September, the right lane of southbound I-85 will be closed, the northbound segment will have intermittent single-lane closures and ramps on the interchange will have single lane closures.
More details on the I-75 Modernization Project are available at modernize75.com.