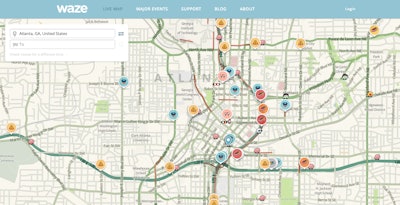 The Georgia Department of Transportation (GDOT) is partnering with crowdsourced navigation app Waze's Connected Citizens Program to share real-time data on construction zones, traffic incidents and road closures through its NaviGAtor program.
The agency is the fourth Waze partner in the state and joins a growing list of state DOTs doing so, including Oregon, Alabama, Massachusetts, Louisiana,California, Nebraska, Tennessee, Pennsylvania, Maine, New Hampshire and Vermont.
"We are excited about this great data-sharing partnership with Waze that will provide a valuable supplement to the NaviGAtor 511 system ," says GDOT Commissioner Russell McMurry. "Georgia motorists will now have real-time traffic information not only on our interstates and state routes, but also on arterial routes – information that is coming directly from the traveling public."
"Georgia DOT can use these anonymous insights to further promote safer roads," says Paige Fitzgerald, Waze Connected Citizens Program manager. "More than that, Georgia DOT is providing critical construction and road closure data to Waze, helping Wazers better circumvent major traffic events and real-time traffic blocks statewide. This exchange empowers our users, Georgia DOT and the broader community to work together to improve urban mobility within the state."
More details about the Waze Connected Citizens program are available at https://www.waze.com/ccp. The Waze app is free and available for iOS and Android platforms at http://www.waze.com.