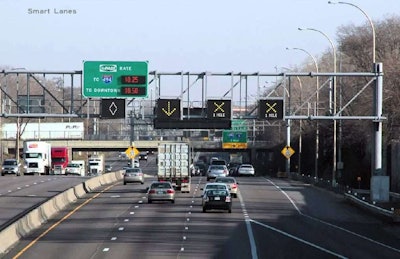 The Colorado Department of Transportation began field testing its Smart Signs system this week on U.S. 36 in Boulder in an effort to help drivers "anticipate and prepare for congestion and lane closures" caused by traffic incidents.
The testing began July 18 and will continue through July 22. The signs will show real-time incident details and the department will observe driver behavior when the signs are activated.
"For years, CDOT has studied similar traffic management systems in other states," says CDOT Transportation Systems Management and Operations Director Ryan Rice "We took the best practices of those states and are applying those to our highways. This is the first time a system like this has been installed in the state and we anticipate it'll improve safety on the corridor by allowing drivers to be better prepared for problems ahead."
The agency says other states that have employed similar traffic management systems have seen road capacity increase by roughly 22 percent on average and a 30 percent drop in crashes. Two examples states CDOT cites include Minnesota and Washington.
CDOT's Smart Signs system uses cameras and vehicle detectors to pick up and process traffic condition information throughout the day. These details are posted to overhead digital signs indicating opened and closed lanes and advisory speed limits. These speed limits, CDOT says, will be used to slow drivers in increments when they get closer to congested areas, with 35 mph being the slowest advisory speed. If a lane is closed, the signs will prompt motorists to merge into an open lane.
Following this week's test, CDOT anticipates the Smart Signs on U.S. 36 will be activated full-time "within the next several months."