Bertha, the world's largest and perhaps most beleaguered tunnel boring machine, has been halted deep below the streets of Seattle once again. But this time the stoppage is for routine maintenance following significant progress. Plus, the stoppage gives us an opportunity to look at an often overshadowed portion of this project: construction of the State Route 99 highway itself.
Apart from her size, Bertha is mostly famous for how long she sat idle in the ground and the extremely complex process of repairing the machine following severe damage caused to the machine's main bearing seals and some of its key gears. Following the excavation of a 120-foot repair pit, the lift of the machine's massive cutterhead and the replacement of the machine's main bearing seals and some of its teeth, Bertha finally recovered from her two-year delay in December.
Now, after nine weeks of trouble-free digging and more than 1,500 feet of progress below the Alaskan Way viaduct, the machine is in the middle of a several-weeks-long maintenance stoppage, according to a report from the Seattle Times. The machine is about one-third of the way through digging a 1.7-mile tunnel beneath which will replace the viaduct and carry a double decker highway.
The maintenance stoppage is focusing on the machine's 800 cutting teeth, inspecting them and replacing them if necessary. The inspection process will require seven teams of five divers working in 30-minute shifts throughout the day, carefully digging away clay from the teeth by hand, the Times reports. You can see video of similar underwater repairs below.
And while maintenance to the machine goes on, crews have continued to work on building out the Seattle Route 99 tunnel and highway behind it.
As Bertha's front digs, her rear end actually installs the frame of the tunnel by assembling pieces of 2-foot-thick concrete, according to the Washington State Department of Transportation. Once enough of this circular frame is completed, crews can begin the construction of a 54-foot stretch of highway. WSDOT breaks down that process in this graphic, but you can see a more in depth rundown of the process in the video below.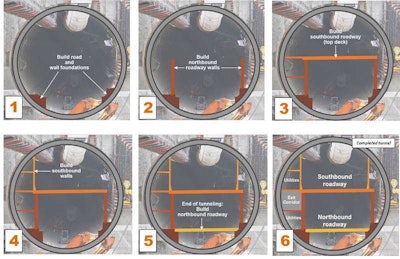 According to a report from the Seattle Times, construction of the highway decks involve the following:
First, [crews] drill holes in the 57-foot diameter tube, and insert U-shaped pieces of rebar steel on each side. These help to anchor and fasten larger cages of rebar that form the skeleton of the deck foundations.
Red gantry cranes bring forms that are lowered around the cages, creating a shape where fresh concrete is pumped in. It hardens into ledges that support the walls.
WSDOT says multiple stretches are under construction at any given time.