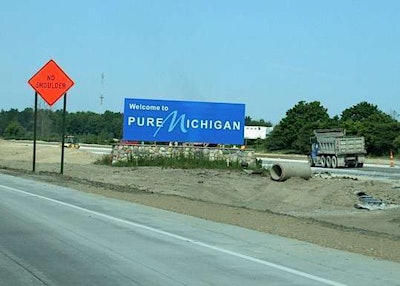 Michigan Gov. Rick Snyder has vetoed a bill that would have ended cost-sharing requirements for some municipalities for interstate and state highway projects within their jurisdiction or boundaries.
Senate Bill 557 would have amended Public Act 51, which applies to 45 municipalities with populations more than 25,000. The payment amounts are tied to the population counts.
"The bill seeks to mitigate a provision that can, on occasion, create road funding challenges for some communities," Snyder says.  "However, eliminating local government cost sharing altogether is a piecemeal approach to what needs to be a much broader discussion."
In his veto letter, Snyder said many of the towns and villages in the range affected by Public Act 51 "believe it is unfair for them to contribute to state planned construction and state roads."
"The bill seeks to mitigate a provision that does create hardships for some communities when they are required to use most, if not all of their available local road funding to share in a major Interstate highway project that does through their community," he explains. "However, this bill goes too far in its affect."
He continued that the bill would have forced the Michigan Department of Transportation (MDOT) to move funding to urban areas from rural areas, thereby allowing for fewer "Main Street" projects.
Snyder is calling on the state legislature to work with his administration to create "wholesale revisions" to Public Act 51 before the end of 2016.
The governor, however, did sign two transportation related bills. House Bill 4440 moves $25.8 million from the Transportation Economic Development Fund for use by MDOT to match federal aid highway funds and other road projects. House Bill 5706 redirects $9.4 million in drivers' license fee revenue from the Transportation Economic Development Fund to the state's General Fund.