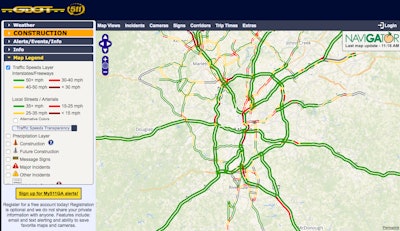 The Georgia Department of Transportation (GDOT) is marking 20 years of both its NaviGAtor 511 program and Transportation Management Center, both of which were instituted prior to the 1996 Summer Olympic Games to help it handle the expected influx of roughly 2 million visitors.
Both programs have operated 24 hours a day, seven days a week for more than 175,000 continuous hours.
"Starting up a program like this at a time when traffic technology was in its infancy, provided some interesting challenges. We didn't have IP cameras or an Ethernet network—things we take for granted today," says Marion Waters, who was the State Traffic Engineer at the time. "The program represented a significant milestone for Georgia. We went from building roads to actually managing the traffic and incidents on our Interstates. What we achieved was extraordinary."
NaviGAtor 511, GDOT says, provides real-time speed, volume and travel time data by using field devices like closed circuit television and video detection cameras, ramp meters and changeable message signs. In 1996, the program only covered 37 Interstate miles. Today, it covers more than 300. ITS America has recognized NaviGAtor with a 2016 Best in ITS award, which focuses on innovation and what the future of back-end ITS will look like.
"Building a system from scratch with an unmovable deadline—the Olympics—was both challenging and rewarding," says Assistant State Traffic Engineer Mark Demidovich, who was also involved during the early years of the program, "but we got it up and running successfully a few months before the opening ceremony."
"Our comprehensive maintenance system was recently selected the top innovation by our peers," he says. "Through constant monitoring and preventative and responsive maintenance, we have reduced costs and maintained over 99 percent device availability for the 3,000 ITS devices on the system."
The Transportation Management Center houses the NaviGAtor program and serves as the state's emergency operations center and home of the Highway Emergency Response Operator (HERO) program.