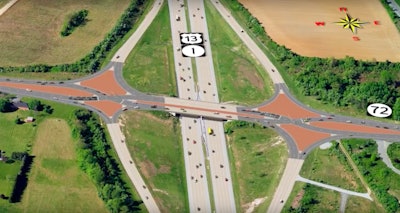 The Delaware Department of Transportation (DelDOT) has begun construction on the state's first diverging diamond interchange (DDI) located at the junction of SR 1 and Route 72. Diamond Materials of Wilmington and JMT Construction of Newark are working on the $7 million design-build project.
DDIs eliminate left turns that have to clear opposing traffic, a design that is useful in high-traffic areas. They can cut down on congestion, improve safety, and move traffic along faster than traditional interchanges. The Missouri Department of Transportation installed the first DDI in the country in Springfield in 2009.
DelDOT says SR 72 has a "significant amount" of left hands onto SR 1 at the junction of the two roads, with an average of 585 vehicles making left turns onto northbound SR 1 during the morning peak hour. The DDI will also incorporate shared-use paths and crosswalks.
"When I became secretary of transportation a little more than a year ago, I made a commitment to innovation, and the diverging diamond interchange is one of the most innovative concepts in road design," says DelDOT Secretary Jennifer Cohan. "Only 64 Diverging Diamond Interchanges have been constructed in the United States, and the one at Route 72 and SR 1 will be the first one in Delaware. The diverging diamond here will enable vehicles to enter and exit SR 1 without having to cross lanes of oncoming traffic, improving safety and decreasing congestion and it will cost a lot less than more traditional interchange arrangements. That is the sort of innovation we will continue to pursue at DelDOT."
"Implementing the Diverging Diamond concept on our network of roads and bridges represents the efficient and effective approach to transportation investments that our citizens deserve," Gov. Jack Markell says. "We will improve safety, while using an interchange design that can be installed at a quarter of the cost of other methods. This is exactly the type of project we wanted to see when we worked with the General Assembly to approve a $400 million increase in transportation funding over the next six years."
DelDOT received a Federal Highway Administration Accelerated Innovation Deployment Demonstration grant of $1 million to help "accelerate the implementation and adoption of innovation in highway transportation."
More details about the project, and other SR 1 updates, are available here.