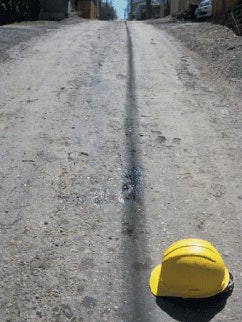 The American Road & Transportation Builders Association Transportation Development Foundation's (ARTBA-TDF) worker memorial fund has provided scholarships for 11 children of fallen highway workers in its most recent round.
The Lanford Family Highway Worker Memorial Scholarship fund was created in 1999 with a gift from Stan Lanford of Lanford Brothers and Jack Lanford of Adams Construction Company. Both have served as ARTBA chairman.
The fund has since provided more than 120 scholarships to children of workers from 25 states.
This year's recipients include:
Rachael Moser, Washington, D.C.
Rachael's father, Richard Moser, a 21-year veteran of the Maryland State Highway Administration, was killed in 2007. Rachael, a recipient of the scholarship for her undergrad studies at Denison University, will pursue graduate studies in education at Harvard University in the fall.
Victoria Markle, Port Charlotte, Florida
Victoria's father, John Markle, was struck and killed on Florida's Interstate 75 in March while working for Ajax Paving Industries. Victoria will be a freshman at Florida Gulf Coast University where she plans to study journalism.
Lyndsay Sutton, Cape Coral, Florida.
Lyndsay's father, Steven Morgan, was killed in a November 2011 accident while working on I-75 in Florida. She will be a senior at Florida Gulf Coast University where she majors in communications.
Willie Blevins, Commerce, Georgia
Willie's mother, Kathy Blevins, worked for the Gwinnett County Department of Transportation. She had just finished painting turn-lane lines when her vehicle was struck and she was killed in 2004. Willie will be a junior studying engineering at the University of North Georgia.
Cirar Butler, Gunnison, Mississippi
Cirar's father, Henry Butler, Jr., was killed while driving a Mississippi Department of Transportation work truck during highway repairs in 2014. Cirar will be a freshman at Coahoma Community College and plans to study physical therapy.
Emily Jones, Billings, Montana
Emily's father, Richard Jones, was killed in a car accident in 2013 while working for Direct Traffic Control. Emily will be a junior at Montana State University and majors in criminal justice.
Kaitlyn Henry, Dennison, Ohio
Kaitlyn's dad, Gary Henry, was struck by a construction vehicle and killed in 2013 while working on a state highway construction project on Interstate 270 near Columbus, Ohio. Kaitlyn will be a senior at Ohio University and is an intervention specialist major.
Andrea Pair, Spiro, Oklahoma
Andrea's father, Shannon Pair, was struck and killed while working for Time Striping Inc. in 1998. Andrea will be a sophomore at Northeastern State University and studies nutritional science.
Standra Jones, Jr., Gaston, South Carolina
Stan's father, Standra Jones, worked for the South Carolina Department of Transportation. In 2007, he was struck and killed while taking down work zone traffic controls on I-26 in Lexington County. Stan will be a sophomore at Clemson University and majors in architecture.
Kristen Jares, West, Texas
Kristen's father, Gregory Jares, was killed in 2001 while working for the Texas Department of Transportation. Kristen will be a freshman at the University of Mary Hardin-Baylor in Belton and will study exercise physiology.
Amy McNeil, Lumberton, Texas
Amy's father, Jeffrey McNeil, was killed in 2005 while working for the Texas Department of Transportation on U.S. 69 in Beaumont. Amy is studying nursing at Lamar State College in Orange.
ARTBA-TDF is seeking contact leads for students who could benefit from the fund. Contact ARTBA's Eileen Houlihan at ehoulihan@artba.org or 202.289.4434 for more information.