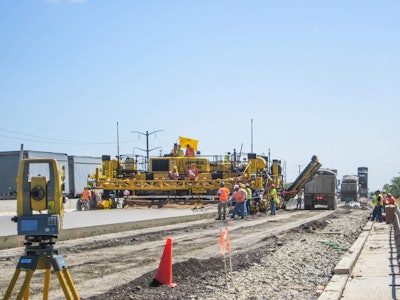 Topcon Positioning Group has introduced a local positioning system for concrete paving for use when GNSS signals aren't available.
The company says the LPS system uses multiple Topcon PS series robotic total stations with tracking prisms mounted on the paver for steering and elevation control.
The LPS system uses an MC-i4 receiver with LongLink for robot-to-robot communication, and the system allows for multiple robots to be programed prior to a job in order to switch total stations without stopping.
"The robots provide very accurate data to the paver's control system and in turn the results are very impressive," Topcon­ 3D road construction systems manager Brian Lingobardo said in a statement.
Topcon says the new robotic system doesn't suffer from the sensor outages that can cause problems for a GPS-based system due to bridges, tight paving lanes, sound walls and traffic.
More information can be found at topconpositioning.com.