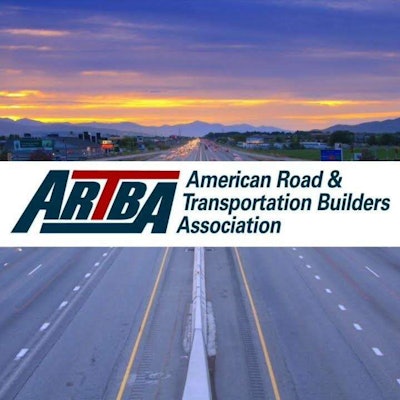 The American Road and Transportation Builders Association (ARTBA) has named David S. Zachry as the association's next chairman for the 2015-2016 term. ARTBA announced the election during its recent annual national convention in Philadelphia.
Zachry is the CEO of Zachry Corporation, a construction and materials company based in San Antonio. He has more than 30 years of experience in transportation construction, serving as president of the company's Civil Group, then president and COO and ultimately as CEO starting in 2008.
For ARTBA, Zachry has served as senior vice chairman, first vice chairman and vice chairman at-large. Curently, he is the chairman of the steering committee for the Construction Industry Ethics and Compliance initiative, serves on the Texas A&M Civil Engineering Advisory Council, and is a board member of both the Southwest Research Institute and the Associated General Contractors of America.
During the convention, Zachry identified several goals he has for ARTBA, including the continued effort for securing long-term transportation funding; expansion efforts for training, accreditation and certification programs; efforts to engage young leaders in the industry in ARTBA efforts; professional development efforts for women in transportation construction; and efforts to expand ARTBA membership.
Other officers elected during ARTBA's national convention:
Senior Vice Chairman: Bob Alger, president and CEO, The Lane Construction Corporation in Cheshire, Connecticut
First Vice Chairman: Matt Cummings, executive vice president, AECOM, Philadelphia
Northeastern Region Vice Chairman: Dave Gehr, senior vice president, WSP | Parsons Brinckerhoff, Herndon, Virginia
Southern Region Vice Chairman: Tom Elmore, president, Eutaw Construction Company, Aberdeen, Mississippi
Western Region Vice Chairman: Jeff Clyde, president, W.W. Clyde & Company, Springville, Utah
Central Region Vice Chairman: Steve McGough, president and chief operating officer, HCSS, Sugarland, Texas
Vice Chairman At-Large: Ward Nye, president and CEO of Martin Marietta Materials, Raleigh, North Carolina
Vice Chairman At-Large: Scott L. Cassels, president, Kiewit Infrastructure Group, Inc., and executive vice president, Kiewit Corporation, Omaha, Nebraska
Vice Chairman At-Large: Rob Charter, group president, Caterpillar Inc., Peoria, Illinois
Vice Chairman At-Large: Melissa Tooley, director of external initiatives, director, Southwest University Transportation Center, Texas A&M Transportation Institute in College Station, Texas
Vice Chairman At-Large: John Riccardi, vice president and general manager, 3M Traffic Safety and Security Division, St. Paul, Minnesota
Vice Chairman At-Large: Mike Donnino, senior vice president, Granite Construction Company, Lewisville, Texas
Secretary: Pete Ruane, president and CEO, ARTBA, Washington
Treasurer: Tom Hill, president and CEO, Summit Materials, LLC, Denver