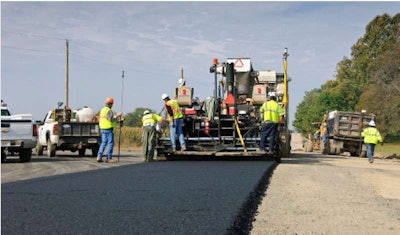 Members of the National Asphalt Pavement Association's (NAPA) Pavement Performance task group told attendees of the association's midyear conference that asphalt pavement durability boils down to elements of mix design, density and going back to the basics of paving best practices.
The group was formed from members of NAPA's Executive Committee, its Engineering Advisory Council and the National Center for Asphalt Technology (NCAT) to "advance asphalt pavement performance and increase asphalt pavement life." It has met three times so far in the past eight months in Chicago, Baltimore and Atlanta.
Audrey Copeland, NAPA vice president of engineering outlined the main issues on which the group focused. These include the lack of long-term funding, the possibility of using dry mixes, and construction best practices.
While saying the day's discussion wouldn't focus on the first item, Copeland did address that proverbial elephant in the room. "The lack of long-term funding hampers innovation, it hampers progress and an efficient system," she said.
Those three focus areas led the NAPA's leadership to realize that efforts were going to go beyond quality and pointed to larger issues—long-term performance and initial cost and life cycle cost. "The industry is being very proactive about this, and our members are being proactive in terms of the support from their companies."
Mike Cote, executive vice present and chief development officer, Lane Construction and 2015 NAPA chairman, said asphalt pavement performance isn't an easy thing to quantify.
"Performance is certainly what we're judged by, but defining and measuring performance is challenging to say the least," he said.
He identified four main areas of focus to help with this conundrum:
Aggregate standards—minimizing voids in the mineral aggregate (VMA) via finer gradations
Mix design—getting the plant mix to produce the same as the lab design
Criteria—developing uniform performance criteria and standards
Equipment—leverage the technological advances of the equipment that's available to the industry
Ron Sines, vice president-asphalt performance, Oldcastle Materials, said mix design specifications need to be simplified to focus on what works and eliminate what doesn't. "If we can do this we'll truly start to move toward designs which are optimized based upon performance," he said.
Sines said pavement performance needs to be looked at in context of density vs. permeability, and it needs to be understood that aggregate size makes a difference. He also recommended that real-time mix temperatures need to be monitored and that quality control staff members need to be empowered to make changes in mixes as needed.
Randy West, NCAT director, also drove home the point about the importance of mix design.
"One of the basic objectives of mix design is choosing an aggregate gradation," he said. "Finer gradations are more compactible, more workable, and less permeable. These are qualities that make for longer lasting, more crack resistant asphalt pavements."
The other basic objective of mix design, West added, is determining the optimum asphalt content. VMA criteria sets the minimum required volume of effective asphalt required for the mix. The flexibility of pavement comes from asphalt volume and characteristics.
The challenge with VMA, however, is calculating it. One method is using the bulk specific gravity of the aggregate. This is difficult, West said, because the tests are time consuming, taking up to three days to get a result, which can lead to the test being run less frequently and short cuts being taken. So the main point for future enhancements will be fine-tuning the testing process.
But above all, it goes back to Paving 101.
"We need to make sure that we do follow the basic principles of mix design," he said.
The task group is about half finished with its work, said discussion moderator Kevin Kelly, president and CEO of Walsh & Kelly Inc., and has set an aggressive timetable of developing a white paper by year's end.