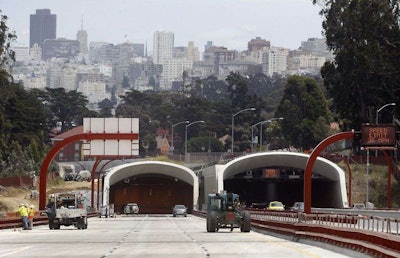 It took 15 years and more than $1 billion, but the final concrete has been poured in the Presidio Parkway project to replace Doyle Drive in San Francisco. The new road opened to drivers late Sunday night.
The 1.6-mile Presidio Parkway replaces Doyle Drive as the main gateway to one of America's most iconic bridges, the Golden Gate Bridge. But the opening wasn't without a few headaches for drivers in the area. The road was closed for three days—resulting in a 45 percent drop in traffic on the Golden Gate Bridge—but traffic resumed ahead of schedule Sunday night, according to the San Francisco Chronicle.
"They've made really great progress," project spokeswoman Molly Graham said. "There was a lot of planning that went into this, and everything went according to plan. Everything's lining up to open early."
Construction crews got to work at 10 p.m. Thursday as they demolished the temporary road and poured the last of the concrete to finish up. Over the next 62 hours, the concrete cured and became ready for drivers.
There is still some work to be done, however. Constructions crews will now move on to putting dirt on top of the tunnels and extend another road over top of the eastern tunnels.