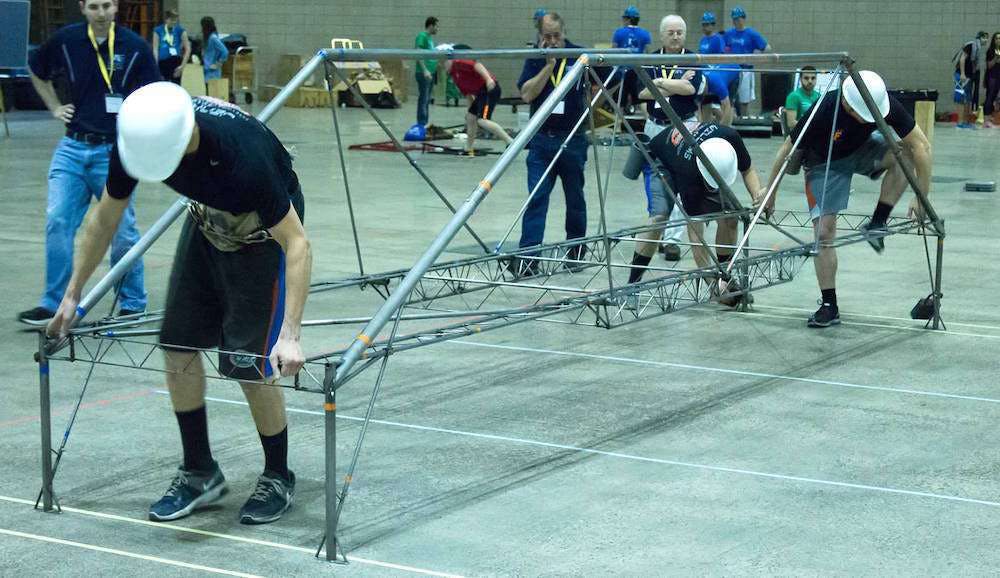 The Southeastern Conference has racked up yet another championship, but this time in something other than sports.
The University of Florida (UF) won the overall 2015 National Student Steel Bridge Competition hosted by the University of Missouri and held in Kansas City May 22-23. UF bested a field of 47 university engineering student teams from the U.S. and Canada.
The UF team also placed first in the Efficiency and Lightness categories, sixth in Economy, seventh in Construction Speed, ninth in Stiffness, and 10th in Display.
The top 10 overall teams:
1. University of Florida
2. California Polytechnic State University, San Luis Obispo
3. Ecole de Technologie Superieure
4. SUNY Bufalo
5. Lafayette College
6. New Jersey Institute of Technology
7. Universite Laval
8. University of Wisconsin-Madison
9. University of Alaska Fairbanks
10. South Dakota School of Mines and Technology
Sponsoring the competition are the American Society of Civil Engineers and the American Institute of Steel Construction. Co-sponsors include the American Galvanizers Association, American Iron and Steel Institute, Bentley Systems, Canadian Institute of Steel Constrution, DS Solidworks, James F. Lincoln Arc Welding Foundation, National Steel Bridge Alliance, Nucor, and Nelson Stud Welding.
The competition's mission is to "supplement the education of civil engineering students with a comprehensive, student-driven project experience from conception and design through fabrication, erection, and testing, culminating in a steel structure that meets client specifications and optimizes performance and economy. The (competition) increases awareness of real-world engineering issues such as spatial constraints, material properties, strength, serviceability, fabrication and erection processes, safety, esthetics, and cost. Success in inter-collegiate competition requires effective teamwork and project management. Future engineers are stimulated to innovate, practice professionalism, and use structural steel efficiently."
The next National Student Steel Bridge Competition is set for May 27-28, 2016, in Provo, Utah, and will be hosted by Brigham Young University.