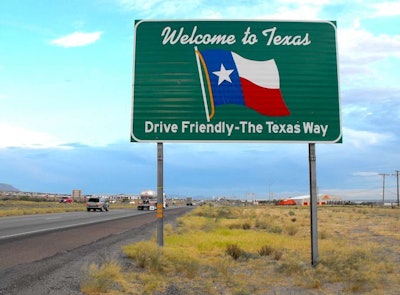 The Texas House of Representatives Transportation chairman and his counterpart in the state's Senate have reached a deal to inject the transportation budget with $3 billion more each year.
The Dallas Morning News reports Rep. Joe Picket (D-El Paso) and Sen. Robert Nichols (R-Jacksonville) announced May 26 that they'd agreed upon a plan to fund roadwork through general sales tax and the motor vehicle sales tax.
The plan still needs to go before the House and Senate for a vote before it would go before voters in 2016. However, the agreement was the first significant step for a long-term deal in years.
"Getting something that was a 'Hell, no' two years ago … shows we've come a long way," said Pickett.
The Texas Department of Transportation said in 2013 the state needed $5 billion more annual just to keep the status quo. Voters approved a shift in oil and gas tax revenue to send $1.7 billion to transportation this year, still well below what the department recommended.
The latest deal between the House and the Senate would send $2.5 billion more each year starting in 2018. That would continue for 15 years. In 2020, 35 percent of the motor vehicle sales—about $5 billion—would begin to go towards road funding. The motor vehicle sales cut would expire after 10 years, but lawmakers could vote to extend it.
The plan also has a "fail-safe option" in case the economy starts to take a hit, and the state needs more money in the general revenue. The Legislature can vote by a two-thirds majority to reduce the funding by 50 percent.