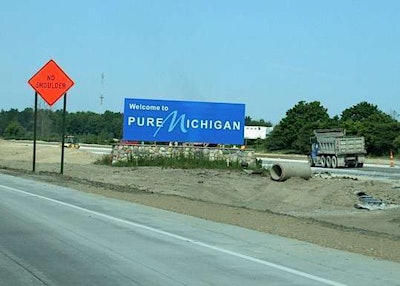 The major defeat of Proposal 1 in Michigan last week, which would have provided funding for transportation projects via a sales tax increase, prompted lawmakers to propose two bills in attempt to raise monies for road improvements.
Michigan voters rejected Proposal 1 by an 80 percent to 20 percent margin. The constitutional amendment would have increased the sales tax to 7 percent and potentially raised $1.8 billion for projects.
House Bill 4566, introduced by Rep. Phil Potvin (R-Cadillac), would amend the "General Sales Tax Act 167 of 1933" to divert motor fuels sales tax receipts from going into the state's general fund and into road improvement projects. This specifically impacts section 25 of the act, which can be read here. The bill has been referred to the Committee on Appropriations.
The second bill, House Bill 4560, would amend as section of The Insurance Code of 1956, Act 218 of 1956" to move interest on the Michigan Catastrophic Claims Association fund to also be used for road improvement projects. The bill, sponsored by Rep. Peter Lucido (R-Shelby Township), was referred to the Committee on Insurance.
Both bills were announced in House Journal Number 44, and could enter in discussions this week.