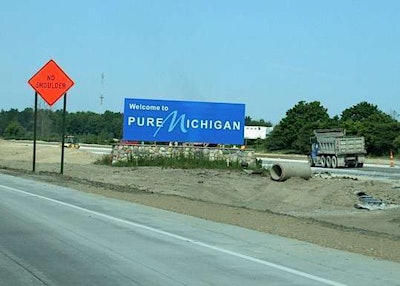 Michigan voters overwhelmingly rejected Tuesday a constitutional amendment that would have raised the state's sales tax and increased gas prices to improve roadways.
Proposal 1 was voted down 80-20, as just 351,000 residents voted in favor against 1.4 million voting no with just 20 percent turnout according to the Detroit Free Press.
The Lansing State Journal reports Proposal 1 would have, in part, raised the state sales tax to 7 percent and provided $1.8 billion dollars to repair and maintain Michigan's roads, highways and bridges if it had passed.
The proposal would also have removed the sales tax on gasoline to allow the state to raise the fuel tax more, as more fuel tax revenue goes to roadwork than sales tax. Taxes on regular gasoline and diesel fuel would have increased for the first time since 1997 and switched to a percentage-based tax that increases with inflation, according to the Detroit Free Press.
The current gas tax would have increased about 7 to 9 cents per gallon.
The $1.8 billion raised by Proposal 1 would have send $1.25 billion to improve the state's roads, and the remainder of the revenue would have gone toward public transit, education and local governments.
However, not all of the money budgeted for roadwork was going to be put to immediate use fixing problem roads in the state. If voters had passed the proposal, $865 million during the first year and $468 million during the second was going to be used to pay off debt from infrastructure improvements in the past.
Proposal 1 had received support from state lawmakers on both sides of the aisle, including Republican Gov. Rick Snyder, but some conservative groups and state Attorney General Bill Schuette spoke out in opposition.