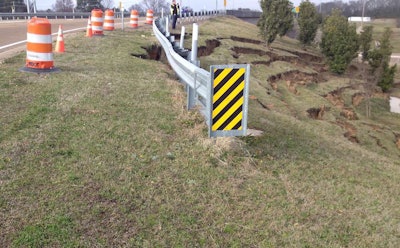 Almost immediately after The Federal Highway Administration announced emergency relief funds were being issued to the Mississippi Department of Transportation, roadwork began on an embankment slide on an Interstate 220 ramp.
Heavy rains and severe winter weather combined to cause sliding, or embankment erosion, along the eastbound Highway 80 exit ramp to I-220, MDOT said.
"This slide has not been a threat to public safety," said MDOT Executive Director Melinda McGrath. "The site has been secured since the slide began, and as long as the weather is not a distraction, crews will begin repair work this week." The department report work began March 11.
The exit ramp will be closed during repair work and motorists can receive updates from MDOTtraffic.com, the MS Traffic App, by calling 511, or following MDOT on Twitter @MississippiDOT.