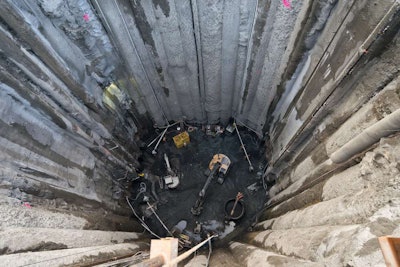 No. 8 Story in 2015
[imagebrowser id=194]
The Big Bertha saga recently received a major update: crews with lead contractor Seattle Tunnel Partners have finished digging the 120-foot pit that will be used to access the world's largest tunnel boring machine for necessary repairs.
Now that the pit is completed, the Seattle Times reports that crews have begun building a concrete floor, "including a 'cradle'" that will support the machine while it is repaired. A massive lift tower has been assembled above the pit to hoist the 630-ton cutterhead, drive axle and bearing to the surface. STP crews hope to have the repairs done by April.
WSDOT photographers have chronicled the entire process of the excavation and the assembly of the crane which you can view in the gallery above. There's also a look at how walls in completed portions of the tunnel are being assembled.
Bertha is currently 20 months behind schedule in digging Seattle's new State Route 99 tunnel due to a long list of setbacks, the latest of which was a stop in excavation for a 12-story repair pit being dug in front of Bertha after officials started to suspect groundwater pumping at the site was the cause of major soil sinkage in the area.
The massive machine has been slumbering below ground since late January 2014, only one-tenth of the way through digging the 1.7-mile tunnel which will carry a double-deck highway and replace the SR 99 Alaskan Way Viaduct. Water and sand clogged her cutterhead openings and penetrated seven rubber seals meant to protect the main bearing. In repairing the machine, crews will install 216 steel ribs and plates that will add 86 tons of reinforcement to the 7,000-ton machine's drive block and cutter drive.
If you'd like to read more about the lift tower being used to raise Bertha, don't miss this excellent report from the Seattle Times.