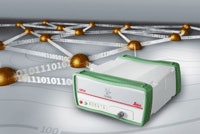 Leica Geosystems is pleased to announce the newest member of its reference station product range. Designed for a wide variety of GNSS reference station applications, the Leica GR10 offers new levels of simplicity, reliability and performance. With a focus on ease of use and efficiency, the GR10 helps streamline system installation and day to day operation and administration.
Streamlined and Straightforward
Plug and play setup using a unique receiver hostname and DHCP support means no pre-configuration of IP address is needed. The state-of-the-art web interface makes configuration easier than ever, reducing time and training requirements. Key status information including the unique event log is available at a glance on every page. System monitor tools, system backup and restore, configuration wizards and comprehensive online help, tool tips and multiple language support make the GR10 easy to manage and maintain. The Active Assist feature allows authorized access to the GR10 in case help is needed from our highly trained support team, even if the receiver is behind a firewall.
Secure and Reliable
Multi-level (viewer/manager/administrator) user levels and web interface restrictions together with HTTPs and SSL encryption prevent unauthorized access to the receiver. The integrated firewall and IP address filtering provide additional layers of security. An integrated watchdog service ensures quality of service and maximizes uptime, giving you extra peace of mind. The optional 19" rack mount kit and wall mount kit allow the receiver to be installed professionally and securely.
Powerful and Versatile
The GR10 provides up to 10 parallel RINEX and/or MDB logging sessions with removable internal SD card based storage up to 32Gb. Each logging session can be prioritized and the Smart Clean-up features ensures that the data storage is optimized. The files can be automatically FTP pushed to multiple locations allowing for easy distribution of data to various data centres or other collaborative networks. Additionally the GR10 supports up to 20 simultaneous data streams in a wide range of RTK, DGPS and raw data formats. With support for logging and streaming data rates up to 50Hz the GR10 is a highly versatile receiver perfect for reference station and monitoring applications. A built-in communications slot allows Radio/GSM/GPRS/UMTS/CDMA devices to be integrated into the receiver whilst maintaining the IP67 environmental rating, making it ideal for use extreme conditions.
Future Proof
The GR10 supports GPS L1/L2C/L2P/L5, GLONASS L1/L2 and Galileo L1/E5a/E5b/E5a+b (AltBOC) tracking making it a safe investment for the future and one that will bring all the benefits of triple frequency and multi-GNSS systems as they become available over the next few years.
Leica Geosystems – when it has to be right
With close to 200 years of pioneering solutions to measure the world, Leica Geosystems products and services are trusted by professionals worldwide to help them capture, analyze, and present spatial information. Leica Geosystems is best known for its broad array of products that capture accurately, model quickly, analyze easily, and visualize and present spatial information.
Those who use Leica Geosystems products every day trust them for their dependability, the value they deliver, and the superior customer support. Based in Heerbrugg, Switzerland, Leica Geosystems is a global company with tens of thousands of customers supported by more than 3'500 employees in 28 countries and hundreds of partners located in more than 120 countries around the world. Leica Geosystems is part of the Hexagon Group, Sweden.