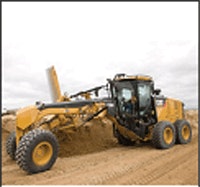 The newest motor grader models from Caterpillar, the 140M2 and 160M2, along with their all-wheel-drive (AWD) counterparts, the 140M2 AWD and 160M2 AWD, are equipped with clean-burning, fuel-efficient engines meeting Tier 4 Interim/Stage IIIB emissions standards. The new models also deliver added value for the customer by lowering operating costs and enhancing productivity, operator convenience and serviceability. M Series 2 models continue to improve on the legacy of quality set by the original M Series and are designed for a broad range of tasks, including heavy blade work, road maintenance, ripping and precision-finishing applications.
Clean, efficient combustion
The new M Series 2 models all use the Cat C9.3 ACERT™ engine with Variable Horse Power (VHP), and all have a wider net-variable-horsepower range than their M Series predecessors. The 140M2 and 160M2 have ranges of 193 to 243 (144 kW to 181 kW) and 213 to 263 (159 kW to 196 kW), respectively. Net horsepower ratings for the 140M2 AWD and 160M2 AWD are 202 to 243 (151 kW to 181 kW) and 223 to 263 (166 kW to 196 kW), respectively.
The C9.3 ACERT engine complies with Tier 4 Interim/Stage IIIB emissions standards utilizing the building blocks of ACERT technology. The technology combines refined fuel, air-management and electronic systems with the Cat NOx-Reduction System and Cat Clean Emissions Module (CEM). The innovative air-management system, using optimized turbocharging, works with the electronically controlled, common-rail fuel-injection system to provide extremely clean, efficient combustion and optimum fuel economy.
Emissions reduction
The Cat NOx-Reduction System captures and cools a small volume of exhaust gas, then returns the cooled gas to the combustion chamber to reduce nitrogen-oxide emissions. The CEM is an efficiently packaged aftertreatment unit that includes a Diesel Oxidation Catalyst (DOC), a Diesel Particulate Filter (DPF) and the Cat Regeneration System (CRS). The no-maintenance DOC assists in reducing the hydrocarbon within the exhaust stream and the DPF Particulate Matter (PM), or soot.
Under most operating conditions, exhaust heat continually oxidizes particulate matter collected in the DPF through a process called passive regeneration. However, if conditions are such that supplemental regeneration is needed, the Cat Regeneration System (CRS) elevates exhaust gas temperatures to oxidize soot within the DPF. The CRS is designed to work transparently, occurring automatically without any interaction needed from the operator and regenerating when conditions are optimal.
Complementing low emissions, overall efficiency and fuel economy of the C9.3 engine is a hydraulically driven demand fan, which automatically adjusts its speed to match cooling needs. The fan reduces horsepower draw, which further boosts fuel economy and allows more power to the wheels. Also, a new swing-out cooling fan package, with an easy-open latch, allows quick access to coolers for fast cleaning.
Operator amenities
At the heart of the M Series 2 design is the Cat control system, which uses two electronic joysticks to provide complete, precise control of the machine. The control system results in nearly 80 percent fewer hand and wrist movements compared to conventional motor-grader controls; the net result is enhanced operator comfort and efficiency. The intuitive design helps both new and experienced operators be more productive.
The new M Series 2 motor graders also feature electronic vertical adjustment of the joystick control pods, allowing each operator to tailor joystick height for optimum control and comfort, resulting in greater productivity. Selectable blade lift speed modes allow more precise control to match lift response to the job. The spacious M Series 2 cab, with standard air conditioning, uses angled doors and a patented sloping rear window to afford excellent visibility to the heel and toe of the moldboard and to the ripper.
In addition, optional anti-icing glass for the windshield and right door keeps these surfaces clear in cold weather, and a 250-amp alternator is included in the package. To further promote jobsite safety, an optional rear-vision camera provides a crisp, wide-angle view of the area behind the machine.
Integrated Technologies
Beginning mid-2011, the M Series 2 models will offer the new Cat Grade Control Cross Slope system. Cat Grade Control is a complete machine control and guidance system which integrates traditional grade control with standard machine components at the factory. This optional factory-installed and calibrated cross slope system provides automatic cross slope control capability, ready to operate from the moment it leaves the factory. In addition, Cat Cross Slope is fully upgradeable and compatible with AccuGrade™ systems to grow with customers.
In addition to Cat Cross Slope, the M Series 2 motor graders will also continue to offer the AccuGrade Ready Option which provides all the mounting hardware, controls and harnesses for easy installation of all AccuGrade kits.
Motor grader users can also utilize Cat Product Link*, which allows remote monitoring of equipment to improve overall fleet-management effectiveness. Product Link is deeply integrated into machine systems. Events and diagnostic codes, as well as hours, fuel, idle time and other detailed information are transmitted to a secure web based application, VisionLink™. VisionLink includes powerful tools to convey information to users and dealers, including mapping, working and idle time, fuel level and more.
Drive train and hydraulics
Operators can closely match machine ground speed to the operating situation with the 8F/6R direct-drive powershift transmission, which uses the Cat Electronic Clutch Pressure Control system to modulate gear changes and Controlled Throttle Shifting for smooth directional changes without the inching pedal. Programmable Autoshift lets the operator match shift parameters to the application.
A manually controlled differential lock improves traction in adverse ground conditions. When engaged, an automatic system locks and unlocks the differential as required to optimize traction while protecting the tandem chains and differential from possible damage. Multi-disc brakes at each tandem wheel provide large braking surfaces for sure stops and long brake life.
The new M Series 2 models are equipped with an advanced electro-hydraulic system for implement control, featuring an independent oil supply to prevent contamination from other systems and to assure proper cooling for extended component life. The load-sensing hydraulic system delivers consistent, predictable cylinder response and provides balanced flow, allowing implements to be used simultaneously with minimal effect on implement and engine speeds.
Durable structures and DCM
The M Series 2 front frame uses continuous top- and bottom-plate construction for exceptional strength, and the rear frame features a robust box-section hitch design, cast axle mounting and integrated rear bumper for durability in the harshest applications, such as ripping.
The massive, one-piece, forged-steel circle is built to absorb high stress loads, and the circle-drive slip clutch reduces the potential for damage from horizontal shock loads. Six circle shoes keep the circle tighter, longer, to assure maximum control in finish-grading applications. The A-frame-type drawbar, using a tubular design for high strength and optimum durability, features a replaceable ball, removable shims (to compensate for wear) and top-adjust wear inserts.
The optimally shaped moldboard and large throat clearance keep material moving easily, resulting in less horsepower draw, more production and greater fuel efficiency. The moldboard side-shift system uses a well-protected cylinder mounted to the left to avoid snow-wing interference. A shim-less moldboard-retention system maintains blade adjustment over extended operating intervals for precise control. The retention system also permits easy adjustment or replacement of worn inserts to significantly reduce maintenance time.