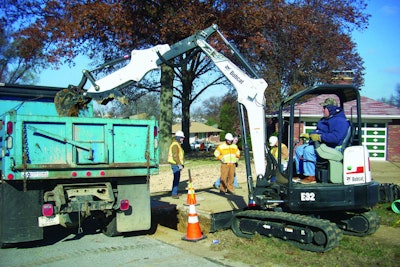 An extendable arm option is now available for Bobcat Company's M-Series E32 and E35 compact excavators.
The extendable arm is a telescoping arm provides an additional 30 inches of reach, beyond the standard arm, for both the E32 and E35 models. The new option, according to Bobcat, is also the first extendable arm for compact excavators that allow the use of the hydraulic clamp and Hydraulic X-Change attachment mounting system.
The arm can be hydraulically extended and retracted. When retracted, the arm delivers similar arm force (tear-out force) as a standard arm. Should the operator need to reach back into the trench to clean out material, or need to reach farther away from the excavation to dump spoil, the arm can be extended an additional 30 inches. The extendable arm also enables the operator to reach to the front or to the far side of a truck to safely fill the load and to have the ability to allow for use of a hydraulic clamp.
The extendable arm cylinder is operated through a rocker style thumb switch located on the joystick.