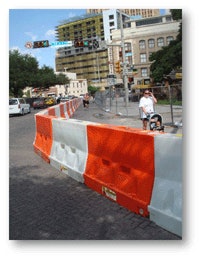 This kit transforms the Yodock® 2001 or 2001M into an effective Temporary Sign Support, while utilizing the ballasting capabilities of the Yodock® 2001 or 2001M. With the proper amount of ballasting, the device is difficult to intentionally move, which helps to ensure that the Temporary Sign Support will not be moved. The Yodock® Temporary Sign Support has passed the NCHRP 350 criteria for Test Level III, 62 mph and has been accepted by the FHWA, see  Letter WZ-127.
The Yodock® Wall Company, Inc. has determined that the ease of intentional movement of the traditional temporary sign support creates an unacceptable risk to pedestrians and motorists. Also many temporary signs are used in areas where underground cables or structures prevent a sign from being posted into the surface. To help eliminate these risks, a temporary sign support kit was developed to be used in conjunction with the Yodock® 2001 or 2001M.
Road Closure/Type III Barricade:The Yodock System is crashworthy and more effective at preventing unauthorized access to restricted areas than conventional type III barricades. Because the system is water ballasted, it is difficult to move, eliminating the need for labor intensive sandbags.
Temporary Sign Support:The Yodock System is crashworthy and more effective when used as a Temporary Sign Support because of its difficulty to move when ballasted.
Advantages
High visibility increases motorist decision sight distance
Water ballast makes it difficult for unauthorized movement or removal
Meets NCHRP 350 and has been accepted by the FHWA for 62 mph work zones
Eliminates the need for sand bags
Meets MUTCD requirements for Temporary Sign Support