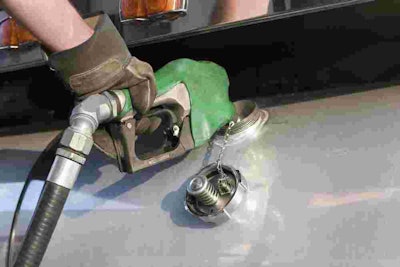 On-highway diesel fuel prices remained unchanged in the U.S. this week, according to our sister site, Aggregates Manager.
The plateau in prices follows five consecutive weeks of declining diesel costs.
The figures come from the Energy Information Administration (EIA), which delayed its fuel report last week due to the 16-day government shutdown that ended last Wednesday.
This week, diesel prices varied per region.
The greatest decrease this week occurred in the Rocky Mountain region, which experienced a $0.014-per-gallon fall from last week's prices and a $0.368-per-gallon year-over-year decline.
The greatest increase occurred in the West Coast less California region, where prices rose $0.015 per gallon over a week ago but fell $0.241 per gallon over a year ago.
The only region with no weekly change was the New England region. Costs in this region have declined $0.211 per gallon since a year ago.
Overall, national prices remained at $3.886 per gallon this week week, and they are $0.230 per gallon lower than a year ago.
For more information, including a chart displaying weekly and yearly changes per region, check out the full diesel fuel price report at AggMan.com.
View the previous report, from October 10, here.