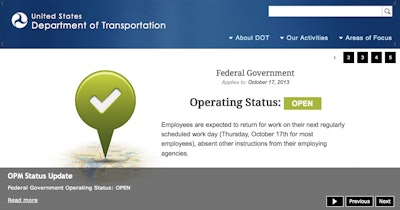 The U.S. Department of Transportation's 18,481 furloughed employees began returning to work Thursday after a 16-day shutdown of the federal government.
Congress and the White House passed a temporary spending measure last night that will allow federal government agencies, including the DOT, to remain open through January 15, the New York Times reports.
Thursday morning, the DOT's website featured a banner linking to the U.S. Office of Personnel Management's website, which noted that the federal government is now open and employees can return to work.
However, the DOT and it's agencies have yet to announce when social interactions such as blogging and tweeting would restart. The agencies announced on October 1 that social interactions would be suspended during the shutdown.
The New York Times report notes that some federal agencies are "slowly [getting] back to normal," which could be a sign that the DOT operations that were suspended earlier this month may take at least a few days to be fully functional.