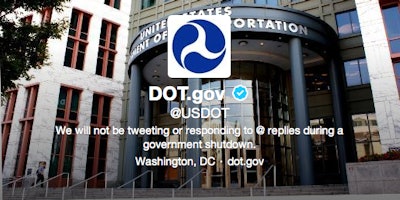 The U.S. Department of Transportation, DOT Secretary Anthony Foxx and sectors of the DOT announced Tuesday they will not update social media accounts or blogs during the federal government shutdown that has furloughed 18,481 DOT positions.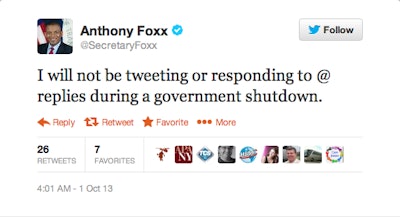 The DOT announced in a post titled "Shutdown Information" on its Fast Lane blog yesterday that no new content will be posted and no comments will be approved.
The agency also tweeted that it would not be posting Twitter updates.
"We will not be tweeting or responding to @ replies during a government shutdown," the DOT tweeted from its handle (@USDOT).
Other administrations within the agency followed suit, with most posting the same status as the DOT.
The Pipeline and Hazardous Materials Safety Administration (@PHMSA_DOT), the National Highway Traffic Safety Administration (@NHTSAgov), the Federal Railroad Administration (@USDOTFRA) and the Federal Transit Administration (@FTA_DOT) tweeted yesterday that tweets and responses have been suspended.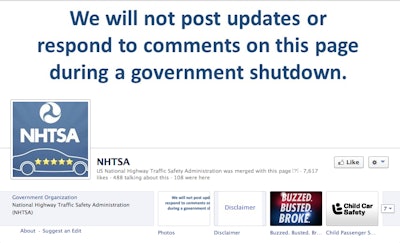 The Research and Innovative Technology Administration (@RITA_DOT) tweeted, "During the government shutdown, content for this account will not be updated."
The Federal Aviation Administration (@FAASafetyBrief) notified followers Monday that it would not update its Twitter if the government shuts down.
"Signing off! In the event of government #shutdown Tuesday, this account nor the #FAA Safety Briefing magazine email will be monitored," the FAA tweeted.
Transportation Secretary Anthony Foxx (@SecretaryFoxx) also announced that he would not update his Twitter during the shutdown.
"I will not be tweeting or responding to @ replies during a government shutdown," Foxx tweeted.
Administrations that are active on Facebook alerted fans yesterday to not expect updates. The Federal Highway Administration (FHWA), the FTA, the FRA and RITA each shared a status to notify fans that content will not be updated, while NHTSA changed its cover photo — the large photo at the top of the page — to present the same message.
The Office of Inspector General (OIG) noted on the homepage of its website that certain operations may be delayed or suspended.
For information about DOT job statuses, visit dot.gov/status, which stays up-to-date.