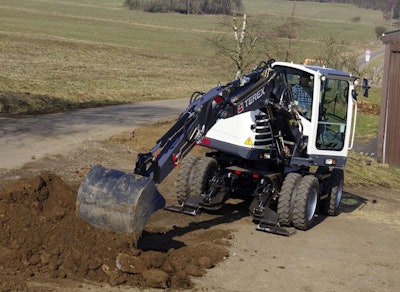 Terex has made its TW85 and TW110 wheeled excavators available in North America, according to a report from our sister site, Equipment World.
The 101-horsepower TW85 has and operating weight of 18,519 pounds and a bucket capacity ranging from 3.1- to 12.3-cubic feet. The machine offers a maximum digging depth of 13 feet, 5 inches and a maximum reach of 24 feet, 10 inches.
The TW110 delivers 102 horsepower and has a 24,229-pound operating weight and a bucket capacity of 5.26- to 16.85-cubic feet. This excavator provides a 14-foot, 2-inch maximum digging depth and a 27-foot, 3-inch maximum reach.
Load sensing technology reduces fuel consumption of both machines, while a hydrostatic travel drive offers a boost in performance and fuel economy. Both models also feature Terex Fingertip Control, Terex Smart Control, a dual-circuit hydraulics system and a new menu guide.
Boom options are available for both excavators.