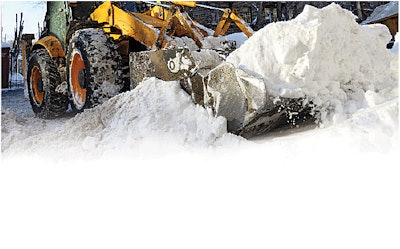 Make the most of this cold season
By Brian Moore
Here comes winter!
It's that time when little road construction will be underway and highway and street maintenance programs shift gears. Although fair-weather activities won't kick off until spring arrives, attention should be focused on a few key areas that can improve the efficiency and effectiveness of the organization. Management best practices suggest that government road and highway departments should focus on "sharpening the saw." That is, employee training and development, performing preventive maintenance on equipment and facilities and taking the opportunity to capture institutional knowledge that can be used to improve processes.
Train, Train, Train
Although training should occur throughout the year, the winter months are a great opportunity to focus on those training activities that would otherwise take people away from important duties during peak production times. Some oft-cited examples include first aid training, OSHA certification courses, CPR, etc. At the beginning of the winter slowdown, assign someone the task of reviewing all employee training records to identify those that will need recertification during the coming year. Be proactive about getting the training done while it's less disruptive. Rather than have a few people each month attend a training event, consider bringing it in-house and recertify everyone at the same time.
Identify key problems you faced last winter and assemble teams that can assess them and develop solutions to avoid or overcome them this time around.
Don't limit winter training only to the rank and file. Supervisors, managers, and executives should take the winter months to build their capabilities as well. Some high-priority topics to address include communication skills, negotiating skills, presentation skills and financial management. In addition, nearly everyone could benefit from improving their leadership competencies, and some key areas you could focus on this winter include:
• Understanding the difference between management and leadership. What does your current role require of you in each of these two areas? As you develop in your career, what areas do you need to improve? How can you do a better job of motivating your team and energize their performance?
• Improve your ability to give and receive feedback. For organizations to excel, it's important that employees be effective in giving feedback to one another so they can learn and improve.
• Consider implementing personality profile assessments so that everyone understands their tendencies and how they impact their leadership and management styles.
• Time management is often rated as one of the skills that people would like to improve. It's a critical component of good management and leadership.
Asset Planning and Care
In addition to improving the effectiveness of the people in the organization, highway maintenance organizations should focus winter efforts on their (non-human) assets. It's fairly common knowledge that winter is the best time to focus on preventive maintenance, but when budget constraints hit, that's often an easy area to cut back on. It's worth a reminder that preventive maintenance does just that – it prevents problems (usually costly problems) from occurring when you can least afford them. Start the season by making a detailed maintenance plan, just as you would for any other project. Include durations, critical path, long-lead order items, individual responsibilities, manpower loadings, and alternative plans in case there's a change to the schedule.
Other hard assets should also be addressed. The first of the year is a great time to clean out storage facilities, organize files and prepare for the coming year. Spruce up the place with a fresh coat of paint, or at least clean out the cobwebs and dust. It's amazing what this does to employee's attitudes.
Improve Processes and Efficiency
Once you've prepared a plan for the training and development of staff, address the maintenance of hard assets, the next priority should be building institutional knowledge of best practices. Identify key problems you faced last winter and assemble teams that can assess them and develop solutions to avoid or overcome them this time around. The teams should include a cross section of people: those close to the situation; some who aren't close to it, but who have insight or perspective; senior people who can bring experience to the table; and less-experienced people who can bring energy and naiveté. Without placing blame, clearly state the problem and its impact, discuss root causes, and work to develop solutions or ways to avoid the problem in the future. Document the results and share them broadly throughout the organization.
While the winter months may provide a respite from the busy construction and maintenance season, they also provide highway maintenance organizations the chance to focus on training employees, improving the efficiency of hard assets, and building organizational knowledge.
So this winter, take the time to develop a plan to capitalize on that opportunity.
Brian Moore is principal with FMI, leading construction industry management consultants, focusing on contractors and construction materials producers. He also specializes in the identification of future construction trends, market conditions and competitive issues that impact strategic decisions. Contact (919) 785-9269, or bmoore@fminet.com.