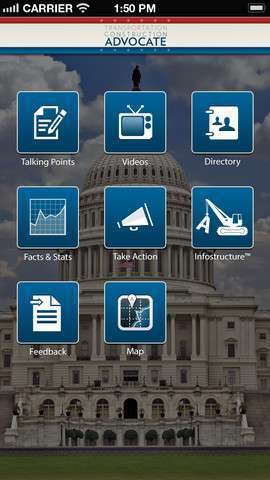 The American Road & Transportation Builders Association (ARTBA) has launched an app similar to the "I'm Stuck" app, which was developed to allow travelers to inform elected officials about transportation problems.
ARTBA's app, however, focuses on transportation professionals.
ARTBA unveiled the "Transportation Construction Advocate App" (TransCon App) yesterday. The app allows public and private-sector workers in the transportation design and construction industry to communicate to elected officials the importance of investing in transportation and fixing the Highway Trust Fund.
The TransCon App offers information that users can pass on to their congressmen and senators, such as "Talking Points" about the 90 percent cut the trust fund faces next year and "Facts & Stats"about the industry's economic impact in their state.
Users can give instant reports about meetings and conversations with lawmakers by using the "Feedback" feature.
Other features include a text notification option that will send SMS messages about major legislative developments on The Hill, a "Take Action" button that allows users to connect with their lawmakers' offices, a short video explaining why grassroots advocacy is important and a directory of all members of the U.S. House and Senate.
The app is part of ARTBA's "Transportation Makes America Work" (TMAW) campaign.
The TransCon App is available free of charge for Apple devices in the App Store and for Android devices in the Google Play store.