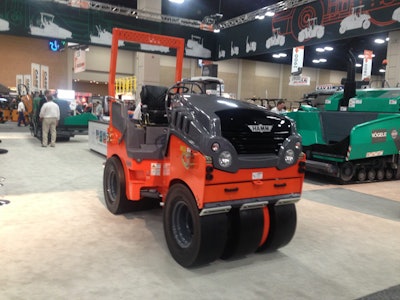 While walking through the show floor here at World of Asphalt 2013 in San Antonio, we happened upon the Wirtgen Group booth and a new, small piece of equipment caught our eye. So, we asked Tim Kowalski, applications support manager for Wirtgen's Hamm rollers to give us a video tour of the HD 14 TT.
It's a rubber tire roller with tires in both the front and back. Hamm introduced the roller late last year and it's making a bit of debut for the new paving season here at the show. Kowalski said the company has seen success with this machine with municipalities and smaller contractors who do driveways and parking lots.
Rubber tire rollers use the static weight of the machine rather than vibration and are are considered good for working with uneven surfaces and gently kneading tender mixes rather than tearing them, Kowalski said.
Be sure to watch the full video below.
[youtube EJRlHSHtR1A nolink]