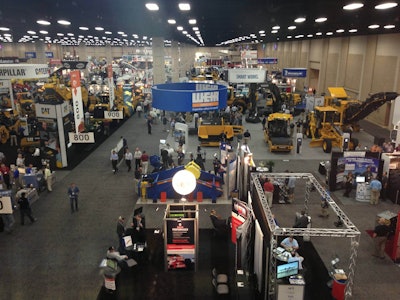 It's always hard to judge a trade show from its first day. But World of Asphalt has the hallmarks of a good one. It's not size. This show is one of the more tailored ones for construction equipment.
AEM chief Dennis Slater is looking at numbers that suggest the attendance will near the last WOA's record setting level. In the two gap years between ConExpo's extravaganza in Las Vegas, this show typically does better in the year right after Vegas than it does in the year before the next Vegas show. So the numbers are encouraging.
So is an informal metric I use, a sort of basic rule of thumb. The ratios between entirely new equipment, upgraded equipment and "new" equipment is an important one. That requires defining "new" of course as some of these new machines we've already seen at shows in the last year or so.
But so far, in one morning, I have been impressed with exhibits actually being introduced to the market at this show. Both Roadtec and Case have impressive debutantes.
The show floor is also an impressive place. There is a lot of big iron here, and that's another of those informal metrics that I like to use. The cost in time, effort and money to bring the big stuff is a reasonable indicator of optimism.
There's not so much of that old-fashioned optimism—we are post-recession recovery after all. And there's a now-familiar feeling of flat sales, but I think time with some occasional, to use the new vernacular, hot spots.
Now, to San Antonio's Riverwalk for lunch!