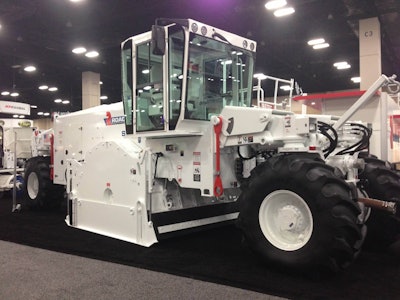 "This is a meat and potatoes type of machine."
That's Roadtec President Jeff Richmond's take on the company's new SX-4e relclaimer-stabilizer. That might be a bit of an understatement though, as stabilizer sales have been Roadtec's lone type of equipment that has shown sales growth recently. This year the company hopes to see between $20 million and $25 million in stablizer sales.
"Everything we build was forecast to basically be flat," Richmond said. "The difference between last year and what we budget for this year, literally, the difference is stabilizers."
So, when asked to point out which pieces of equipment the company is featuring at World of Concrete are most important, Richardson went straight to the SX-4e. He also pointed out the company's new RX-100e utility milling machine which we'll get to in a minute.
[youtube gZ_92SB04jU nolink]
World of Asphalt served as the public's introduction to the SX-4e which is powered by a Cummins QSX-15 Tier 4 engine (Roadtec recently switched from Caterpillar engines over to Cummins.), features high-strength steel frames, a belt-driven cutter drum that can turn at four different speeds and an air shift 4-speed cutter transmission.
Other SX-4e features include true 4-wheel drive that can steer in four different modes and a hydraulically-controlled suspension. The machine offers cutting depths of up to 20 inches and cutting widths of 100 inches. The variable geometry cutter housing features hydraulically-adjustable front and rear doors.
An optional automated water/emulsion system with a 500 GPS capacity and fully automated controls is available for this reclaimer.
To prevent engine overheating, Roadtec included an on-demand cooling feature, which pulls air from the top of the engine compartment, reducing the amount of dust and debris entering the engine compartment.
Under the hood, which raises to 90 degrees, the machine features radiator cleanout and slide-out battery rack. A standard power pack can raise and lower the engine hood.
The fully-enclosed cabin is pressure-sensor end, preventing respiratory problems operators would otherwise face when inhaling lime and dust. The cab slides 18 inches past the right side of the machine and the seat and console swivel 90 degrees to provide visibility to the operator. Other cab features include a color control screen and back-up camera.
Roadtec also featured its RX-100e utility milling machine at the show. For years the company watched as loyal customers bought this size of milling machine from its competitors. Richmond said the company decided it was done watching.
"If they needed a little 12- or 20-inch trimmer like this machine, they had no recourse but to go to a competitor," he said. "And the old adage about if you let the camel's nose in the tent, pretty soon he thinks he owns the tent?"
"We're all about keeping that camel out of that tent."
The RX-100e is powered by a 140-horsepower Cummins Tier 4i engine and offers a base cutting width of 20 inches and cutting depth of 8 inches. The engine is cooled by a high efficiency variable speed fan.
Features include a hydraulically driven drum and large access doors on both sides of the machine. To improve visibility, the operator can slide the comfort suspension seat out to the right of the machine.
For versatility, the right, rear leg tube of the RX-100e can be positioned alongside the cutter housing for normal milling or in front of the cutter housing for flash cut operations.