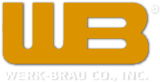 Hyundai Construction Equipment Americas (HCEA) has announced a partnership with Werk-Brau, an attachment manufacturer based in Ohio. The partnership should allow Hyundai to provide a wider array of attachment options to its customers.
Werk-Brau offers a complete line of original equipment manufacturer and replacement attachments for construction equipment including heavy duty excavator and miniexcavator buckets, ditch cleaning and draining buckets, hydraulic and mechanical quick couplers and hydraulic and manual thumbs.
Customers will now have the ability to purchase Hyundai equipment with Werk-Brau attachments through HCEA's dealer network. Werk-Brau will be responsible for the timing and delivery of all products directly to the customer's locations.
Hyundai always works to bring its customers top notch equipment. Recently the company expanded its 9A series with three wheeled excavators, and we're still awaiting the release of the H930C backhoe loader.