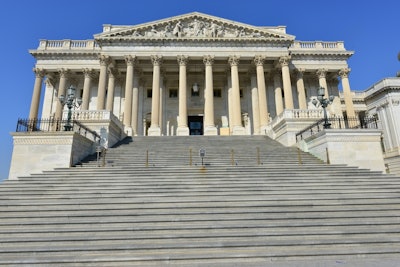 The House Budget Committee marked up the recently-introduced House Republican 2015 fiscal year budget Wednesday evening. When the committee's chairman, Rep. Paul Ryan (R-Wis.), introduced the $1.014 trillion bill on Tuesday, it received criticism from Democrats as well as the White House, which said the measure "would force deep cuts to investments in our roads and bridges."
Now, transportation advocates are expressing their discontent with the bill, noting large decreases in transportation funding and potential problems with Ryan's plan for the Highway Trust Fund.
The Hill reports that the bill would eliminate Amtrak funding, reduce Transportation Security Administration (TSA) funding and require the U.S. Department of Transportation (DOT) to limit spending on road and transit projects to the amount of revenue the 18.4-cents-per-gallon federal gas tax brings in "unless transfers from other areas of the federal budget are offset with additional spending cuts."
The gas tax, which has been the same for two decades, brings in about $34 billion each year. The Highway Trust Fund, which runs on gas tax revenue, is expected to go bankrupt as early as the end of July, a full two months before the current transportation bill, MAP-21, is set to expire.
Among transportation advocates unhappy with the proposed bill are AAA Auto Club Vice President of Public Affairs Kathleen Bower and Midwest High Speed Rail Association Executive Director Richard Harnish, according to The Hill.
Bower criticized deep cuts in transportation funding, noting that the bill "will not provide an appropriate level of investment necessary to build and maintain the nation's 21st century transportation system."
"The significant cuts he is proposing will hamper investments in safety, further delay needed bridge improvements and hamper mobility in and around congested urban areas," Bower said.
The budget proposes the gas tax remain at current levels. However, Bower said a better solution would be to increase those levels.
""The best solution for the near term would be a fiscally responsible proposal — such as increasing the federal gas tax coupled with improved accountability — that adds additional revenue to the Highway Trust Fund," Bower said.
In December, House Democrats proposed a $0.15-per-gallon gas tax hike, which would have nearly doubled the current level. However, the bill failed to pass.
Harnish pointed out his discontent in the budget's elimination of Amtrak funding.
"Buried deep in the pages of Congressman Paul Ryan's proposed 2015 federal budget today is a murder. The victim of this crime is Amtrak, the nation's federally supported railway system," Harnish said. "The eradication of Amtrak will hurt the millions of American railroad passengers, destroy the jobs of approximately thousand railroad employees, and impact the economic life of the hundreds of towns and major cities on Amtrak routes all over this country."
The Hill notes that Amtrak supporters say most subsidies go toward construction projects and long-distance trains.