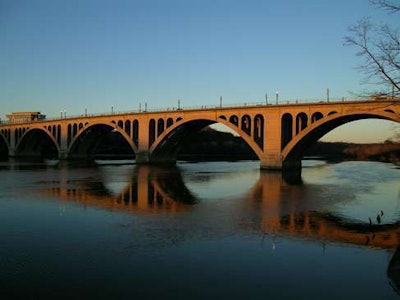 During his visit to the Key Bridge in Washington, D.C., on Tuesday, President Barack Obama urged Congress to quickly pass a highway bill to prevent Highway Trust Fund (HTF) insolvency, The Hill reports.
The HTF is a major source of funding for state and local highway projects. However, money in the fund is projected to run out next month if no action is taken.
"If this Congress does not act by the end of the summer, the Highway Trust Fund will run out," Obama said in the report. "There won't be any money there."
The Department of Transportation on Tuesday announced its new cash management plan, which involves decreasing federal funds to each state and slowing reimbursements beginning Aug. 1.
While at the bridge, Obama reminded lawmakers that HTF insolvency poses a threat to thousands of jobs.
"All told, nearly 700,000 jobs could be at risk next year," Obama said. "That would be like Congress threatening to lay off the entire population of Denver, or Seattle or Boston."
He also pushed for the approval of his administration's proposed $302 billion, four-year GROW AMERICA Act. However, as The Hill points out, the bill relies heavily on a proposal tax reform proposal that lawmakers are not likely to approve.
While pushing for a highway bill, Obama noted that Congress needs to spend more on transportation.
"We know from our history, our economy doesn't grow from the top down, it grows from the middle out," Obama continued. "We are not spending enough on the things that help our economy grow."