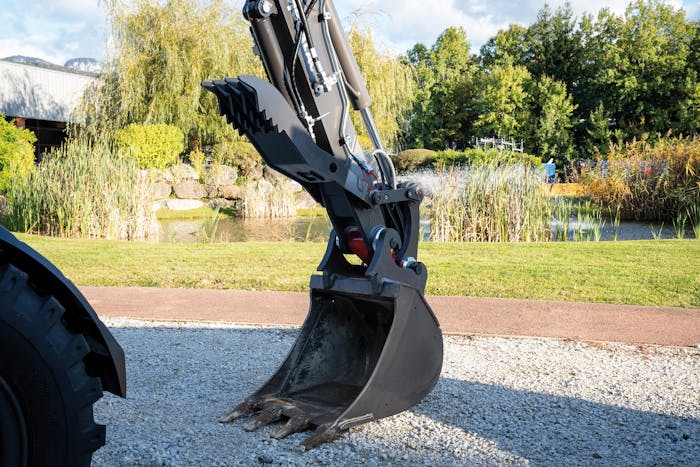 Mecalac has a new hydraulic thumb option for picking up and moving objects with its distinctive combination 6MCR crawler skid-excavator and its 7MWR wheeled excavator.
The thumb is designed for the machines' signature two-piece side booms. The company says the thumb is suited for material-handling tasks as truck loading or pipe laying and can be used on a variety of jobsites, including general construction, road maintenance, utilities and landscaping.
Mecalac says the attachment increases productivity and improves safety. It mounts permanently to the bucket linkage and runs off of the boom's hydraulic cylinder.
It has four teeth. When used with Mecalac's Connect hydraulic quick coupler, constant pressure is exerted on the thumb to precisely control the load and for moving large objects without leaving the cab or having to change the attachment, the company says.
The 6MCR, at 6 metric tons, is the smallest of Mecalac's crawler skid-excavator lineup. The company launched an updated version of the model, along with two others, last year at ConExpo. The side boom folds 130 degrees backward, acts as a natural counterweight and also makes the machine more compact when the arm is raised and when it is on the ground, according to the company. The machine can use excavator and skid steers buckets.
The 7MWR wheeled excavators with side boom was also launched at last year's ConExpo, as part of a new four-model line. It is the smallest in the lineup at 7 metric tons. The company describes the wheeled excavators as having "the stability of a crawler excavator and the mobility of a backhoe loader."