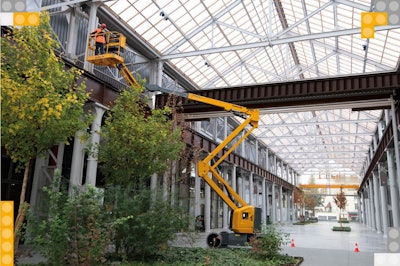 Haulotte
Haulotte's new Sigma 46 and Sigma 46 Pro electric articulating booms can hoist two workers 46 feet in the air indoors and outdoors.
The company says the booms have a best-in-class working envelope and high up and over clearance of 24 feet. They also boast a horizontal outreach of 28 feet. Platform capacity is 500 pounds.
The jib on the Sigma 46 Pro features horizontal rotation for a precise approach without having to reposition the machine, enabling it to reach areas not accessible with a standard jib, the company says. The turret also stays within the machines' footprint for working in tight spaces.
The boom can reach full height in 90 seconds. The lift also has a 7-inch ground clearance and can operate at 4 degrees of tilt.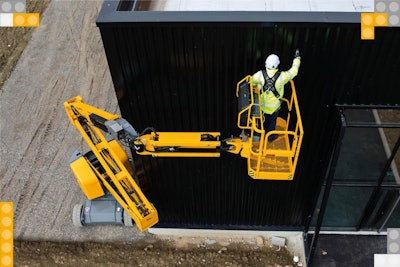 Other features include asynchronous motors and proportional controls for smooth movements, ergonomic control box, a centered boom arm for driving safety and a tool tray. Driving speed automatically adjusts during turns and on slopes, Haulotte says.
Standard on the lifts are the Haulotte Activ'Shield Bar to prevent the operator from becoming entrapped at height and the Haulotte Activ'Lighting System with 10 LED spotlights on the machine controls and surrounding areas. Haulotte Activ'Energy Management, also standard, is designed to increase the 48-volt battery pack's performance and life. An optional central water-fill system is available to simplify maintenance.
The AC motors do not require maintenance, Haulotte says. The lifts' electric and hydraulic components are separated to simplify maintenance. Hoses have also been routed to avoid friction and leaks. The reinforced hoods provide wide openings and direct access to components, the company says.