Allen Engineering
Two new riding concrete trowels from Allen Engineering were unveiled at World of Concrete 2023 in Las Vegas.
For contractors looking for environmentally friendly, affordable equipment that operates indoors and out, the HDX615 is an 8-foot, fully hydraulic beast of a machine powered by Power Solutions International's (PSI) 2.4-liter dual-fuel gasoline and propane engine.
Backed by data and support from the Propane Education & Research Council (PERC), the dual-powered engine offers a path to a clean energy solution without compromising on performance or range.
"This is an exciting development for contractors," said Joe Calhoun, the director of off-road business development at PERC. "Contractors have been enjoying the benefits of propane-powered concrete trowels for years. This new Allen Engineering unit is the largest of its class and, being dual fuel, enables operation indoors and outdoors to meet the immediate needs of the job."
The PSI 2.4-liter engine provides up to 67.1 horsepower and 125.2 foot-pounds. of torque.
In addition, the machine comes equipped with a mechanical unloader hydraulic system providing reliable performance during the panning phase of concrete placement. Switching between gasoline and propane can be done with the flip of a switch.
With dual-fuel options, the HDX615 offers longer runtimes, providing less downtime and more productivity. Also, the HD615 includes electric spray control and pitch control on the joystick.
"This trowel is portable, versatile and environmentally friendly because it runs on propane," Calhoun said.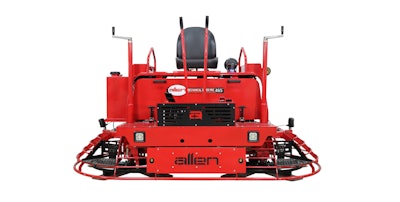 MSP465 updated
The new Mechanical Super Pro rider model 465 Mechanical Super Pro (MSP) is a compact 8-foot rider that comes with an electric start and is powered by a 57-horsepower Kubota engine.
The MSP465 comes equipped with a liquid-cooled gasoline engine, a 10-gallon aluminum fuel tank and assisted steering to reduce operator fatigue.
According to Allen Engineering, the rider produces excellent torque even at high rotor speeds, which makes it excellent for panning or finishing on the job.
Quick Specs HDX615
Engine: Dual-fuel PSI 67.1 hp engine
Controls: Electric spray control and electric pitch control on the joystick
Transportation: Two-point lifting points
Trowel arms: Super-duty cast iron spiders with super-duty trowel arms
Lighting: LED lights
Quick Specs MSP465
Engine: 57 hp Kubota WG1605
Fuel capacity: 10 gallons
Panning width: 8-foot class
Maximum rotor speed: 170 rpm
Rotor diameter: 45.7 inches (5-bladed spider)