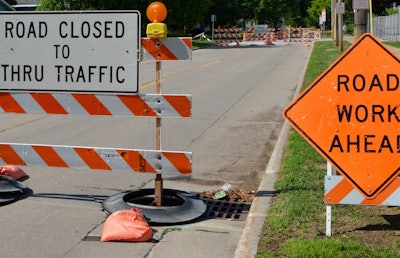 The Select Board in Stockbridge, Mass., told the city that it must repair or replace at least two failing bridges on Route 183 at a potential cost of up to several million dollars, or else face a possible shutdown of a key state highway connecting Stockbridge and Lenox, The Berkshire Eagle reports.
According to the report, Selectman Stephen Shatz said Highway Superintendent Leonard Tisdale alerted the selectmen about a small deteriorating bridge on Route 183, and the Massachusetts Department of Transportation (MassDOT) described the bridge as "something close" to failure.
Shatz also noted that the bridge over Larrywaug Brook on the same highway is in bad shape, and that the shut down of either bridge would seriously disrupt traffic.
"We need to have a discussion about how we're going to address these issues. You can only begin to imagine how much money is involved in fixing all of these bridges, well over $2.5 million to $3 million," Shatz told the news agency, adding that bonds to finance the reconstruction would require approval in a special town meeting. "But these are old structures, some of them as old as 175 years. They have had some modifications over the years, but we believe that, as far as two of them are concerned, there would have to be complete reconstruction."
According to the report, Mark DeVylder, a MassDOT engineer, sent a message to Tisdale explaining that one of the bridges was too small to fall under the department's jurisdiction, and suggested that the town's consulting engineer explore placing "a structural concrete slab on top of the existing superstructure. MassDOT has utilized this method in numerous locations with great results."
Upon receiving the suggestion, Tisdale asked the engineer to prepare a design for the slab and to move ahead with soil borings, according to the report.
The report notes that, during the meeting, Tisdale said, "Overweight vehicles continue to cross other spans with low restrictions, so the only safe alternative is to implement this temporary measure. It will be costly, but we really don't have options other than closure."
"We'd all like to preserve the life of these bridges," Shatz said at the meeting, according to the report. "At the same time, we don't want MassDOT coming in and closing them, and leaving us in a situation where we haven't done something in anticipation of the fact that they're going to fail."
According to the report, the projects would stretch over two to three years, including design approval, bidding, bond issue and construction.
In a statement to the news agency, MassDOT confirmed that it is conducting formal inspections of state and town-owned bridges with 10- to 20-foot spans. Engineers began the inspections earlier in 2016 throughout the district's western Massachusetts territory, and closed multiple bridges due to extensive deterioration.